Dave Tuttle
Research Fellow & Energy Week Coordinator, Energy Institute
Published August 29, 2018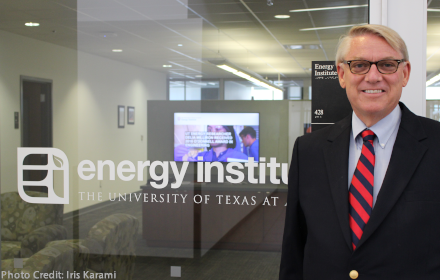 Dave Tuttle has always been fascinated with how things work. And how to make them work better.
An avowed gearhead, Tuttle disassembled and successfully rebuilt his first engine in an 8thgrade shop class. The thrill of revving up an engine – if only for a four-stroke single cylinder lawnmower – has never grown old.
While attending Ballard High School in his hometown of Louisville, Kentucky, Tuttle raced off-road motorcycles and rebuilt several motocross engines and transmissions. After convalescing from a severely broken leg suffered in an accident, he had plenty of time on his hands – enough to build, by hand, a HeathKit AM/FM stereo for his car, a 1968 Ford Fairlane that he shared with sister.
That experience stimulated a budding interest in electrical engineering, which Tuttle pursued at the University of Louisville. During this time, he also worked at an auto parts store and machine shop, where he continued his education on all things automotive. He also bought his first "cool car" – a Datsun 240z.
"It needed a lot of work," he says, recalling that he needed to buy a second 240z so he could cobble together parts from both to make one good car.  Before having children and significant management responsibilities, he also rebuilt a BMW 2002 and two Alfa Romeo convertibles.
Tuttle's interest in vehicles and computing extends beyond advanced powertrains.  In 2007, he was the team manager for the UT team that developed its own self-driving SUV named Marvin that participated in the DARPA Urban Challenge autonomous vehicle competition. 
Nearly 40 years later, his love of cars is alive and well. Tuttle was one of the first Austinites to purchase a Chevy Volt when the plug-in hybrid rolled off the assembly line in late 2010. When Tesla announced production of its Model 3 electric sedan two years ago, Tuttle immediately put down a deposit; he expects to be tooling around Austin in his dual-motor, Model 3 with AutoPilot with Full Self-Driving capabilities sometime this fall.
Turning a hobby into a career
Dave Tuttle's lifelong passion for cars is not just a hobby – it has fueled a second career and reputation as an expert in the operation and performance of advanced conventional powertrains, electric cars, and other alternative fuel vehicles, as well as the engineering behind the advanced powertrains that propel them.
"Vehicles are getting to be more like computers on wheels," he notes. "I've been able to thread together two of my passions: my love of cars and my love for technology and electronics."
Today, as a research associate in UT's Energy Institute, Tuttle analyzes a wide range of topics that includes electricity grid operations and markets, large-scale energy storage, smart grids, renewable energy systems, and his sweet spot: plug-in vehicle adoption and their integration with the grid.
Tuttle also serves as the coordinator for UT Energy Week, an annual conference hosted by the Institute and the Longhorn Energy Club, a student-run organization dedicated to advancing energy research and energy literacy. Tuttle works with student volunteers to formulate the conference program, recruit speakers and panelists, and manage the logistics of the event, which draws hundreds of attendees from academia, industry, government agencies, and non-profit organizations. The event, now in its fifth year, explores the latest trends, new technologies, and pressing energy challenges facing society.
At the forefront of leading-edge computer design
Before returning to UT in 2008, Tuttle had a long and successful career in information technology. After receiving his first graduate degree in electrical engineering with highest honors from the University of Louisville, he joined IBM Austin as an entry-level computer engineer. Over the course of his industry career, he distinguished himself as a leader in the development of groundbreaking microprocessors.
Tuttle designed the logic, defined the verification plan, and wrote the verification test cases and support code for IBM's POWER1 Data Cache chip. After completing this project, he was one of a handful of IBM employees the company sponsored to complete an advanced graduate business degree studying technology transfer and organizational change. Tuttle chose the full-time MBA program at UT's McCombs School of Business, where he graduated with 72 hours of credits, exceeding the 60 credits required, to enhance his knowledge of management, marketing, and finance. His extra effort paid off when he graduated as a Sord Scholar and with a Dean's Award for Academic Excellence.
Returning to IBM in 1991, Tuttle was selected to head up the team that developed the first microprocessor in the Apple/IBM/Motorola alliance. He led the technical team responsible for the design, verification, and manufacturing test vector generation of the first PowerPC 601 microprocessor. The project subsequently provided the base for an estimated billion dollars in new revenue to IBM during 1993-95, and was the foundational CPU that enabled the launching of the Apple Power MacIntosh in 1994.
Later, Tuttle also led a team that designed the POWER2-SC microprocessor used in the 1997 IBM Deep Blue Supercomputer that beat World Chess Champion Garry Kasparov.
After 18 years at IBM, Tuttle accepted an offer from Sun Microsystems to build a Microprocessor Design Center in Austin from scratch, developing multi-threaded/multi-core CPUs.
"We were driving leading-edge technology that took high-performance computing to the next level," he says, recalling his days as a R&D executive in information technology. "It was a great ride."
Tuttle left Sun, eventually returning to UT in 2008, where he earned a PhD. in Electrical Engineering in 2015.
Groundbreaking research
At the Energy Institute, Tuttle was the lead author of a team of researchers from across campus in producing The History and Evolution of the U.S. Electricity Industry, as part of the Institute's interdisciplinary project, The Full Cost of Electricity. The study took a holistic approach to examine the key factors affecting the total system cost of generating and delivering electricity, producing more than a dozen white papers.
Tuttle has authored or co-authored several other academic papers, including:
Technological, Market and Policy Drivers of Emerging Trends in the Diffusion of Plug-in Electric Vehicles in the U.S.
Plug-In Vehicle-to-Home (V2H) Duration and Power Output Capability
The Evolution of Plug-In Electric Vehicle-grid Interactions
Electrified Vehicle Technology Trends, Infrastructure Implications, and Cost Comparisons
A Rapid Charging Station with an Ultracapacitor Energy Storage System for Plug-In Electric Vehicles
Tuttle also manages the Graduate Portfolio Program in Energy Studies (GPPES), a cooperative effort involving eight schools and colleges at UT in which students design their own energy related program from a broad range of courses offered by participating departments. The GPPES enables students to combine an overview of energy policy issues, energy law, or energy related technical courses with an energy-oriented project, such as a Master's thesis, doctoral dissertation or stand-alone study.
Tuttle also has worked with researchers at Pecan Street Consortium to leverage their unique home consumption data for his vehicle to home ("V2H") modeling microgrid systems research.
In addition to his work at UT, Tuttle is a commissioner on the City of Austin's Electric Utility Commission, which is responsible for overseeing Austin Energy's goal of maintaining reliable, affordable, and safe electric service that meets the City Council's sustainability directives.
Between teaching, research, UT Energy Week, and family obligations, Tuttle doesn't have a lot of spare time. When an open time presents itself, he tries to steal away to the beautiful lakes around Austin, play with Smart Home projects, or follow macro-economic and investment trends.