Published:
September 20, 2022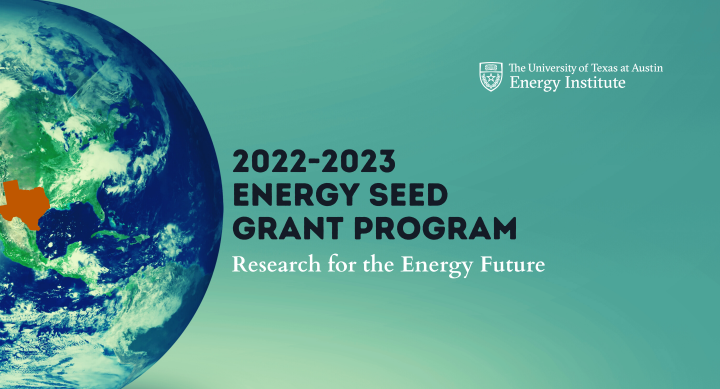 The Energy Institute at The University of Texas at Austin has awarded seed grants to 17 interdisciplinary research teams to help kickstart projects that will attract federal funding and accelerate the innovations needed to reduce the impact of fossil fuels on the environment.
The teams – which represent a variety of colleges and disciplines across the Forty acres – are working to advance scientific, engineering, technological, technoeconomic, and policy research to help ensure a sufficient and reliable energy supply while also lowering carbon emissions.
"UT has an incredible breadth and depth of expertise in energy," said Brian Korgel, director of the Energy Institute. "We wanted to spark and support innovative ideas that leverage UT talent to address pressing research challenges and community needs, while furthering engagement with industry, philanthropic, and government partners."
Because the Energy Institute is committed to supporting interdisciplinary research and collaboration, grant applications required a team of two to three investigators and a letter from an external partner showing interest in future follow-on funding and collaboration.
Kara Kockelman, an expert in transportation engineering at the Cockrell School, and her team are partnering with Toyota and Austin Energy to look for new methods for smart charging electric vehicles that lower emissions and reduce demand on the power grid.
"The climate crisis demands a thoughtful, rapid response," Kockelman said. "This project will help ensure our communities can faster reduce our carbon footprints, clean our air, and save ourselves money."
The development of sensible government policies also will be critical in efforts to achieve decarbonization and climate security while also ensuring equitable access to energy.
"With the recent passage of the Inflation Reduction Act, subsidies and incentives are central to the U.S. approach to the clean energy transition and a resurgent interest in industrial policy," said the LBJ School of Public Affairs' Joshua Busby. His team will be looking at the political economy of green industrial policy.
"We plan to examine the issues raised by these policies through this grant and get our feet wet with the hopes of developing a bigger and broader approach down the road," Busby said.
The 2022-2023 Energy Seed Grant Program represents an investment of more than $1 million to advance research in diverse and relevant fields:
Clean hydrogen
Hydrogen Production at Natural Gas Wellheads: Yingda Lu and Kishore Mohanty (Hildebrand Department of Petroleum & Geosystems Engineering, Cockrell School of Engineering)
Controlling Intrinsic Defects in Metal Oxides for High-Performance, Low-Cost Green Hydrogen Production: Delia Milliron, Joaquin Resasco and Wennie Wang (McKetta Department of Chemical Engineering, Cockrell School of Engineering)
Integrated Computational and Experimental Microscopic Elucidation of Amorphous Electrocatalysts for Water Splitting: Wennie Wang, Joaquin Resasco and C. Buddie Mullins (McKetta Department of Chemical Engineering, Cockrell School of Engineering)
Leveraging Permian Basin Assets for the Emerging Clean Hydrogen Energy Economy in Texas: Michael C. Lewis (Center for Electromechanics, Cockrell School of Engineering) and Ning Lin (Bureau of Economic Geology, Jackson School of Geosciences)
Ammonia Reforming to Hydrogen Using Non-Equilibrium Plasma Discharges: Fabrizio Bisetti and Thomas Underwood (Department of Aerospace Engineering and Engineering Mechanics, Cockrell School of Engineering)
Carbon capture, utilization and storage (CCUS)
Computational Design and Engineering of Biocatalysts for CO2 Conversion: Yi Lu (Department of Chemistry, College of Natural Sciences) and Narayana Aluru (Walker Department of Mechanical Engineering, Cockrell School of Engineering)
Combining Quantitative Leakage Risk Assessment with Financial Liability for CO2 Geologic Storage: Sahar Bakhshian and Susan Hovorka (Bureau of Economic Geology, Jackson School of Geosciences) and James Dyer (Department of Information, Risk, and Operations Management; McCombs School of Business)
Self-Sealing Capacity of Wellbore Cement Under Geologic CO2 Storage: Charles Werth and Maria Juenger (Department of Civil, Architectural and Environmental Engineering; Cockrell School of Engineering) and Sahar Bakhshian (Bureau of Economic Geology, Jackson School of Geosciences)
Carbon Dioxide Hydrates-Based Carbon Sequestration on the Seabed: Vaibhav Bahadur  (Walker Department of Mechanical Engineering) and Yingda Lu (Hildebrand Department of Petroleum & Geosystems Engineering, Cockrell School of Engineering)
Impacts of Geochemistry on Carbon Dioxide Adsorption in Organic-Rich Mudrocks: Zoya Heidari and Nicolas Espinoza (Hildebrand Department of Petroleum & Geosystems Engineering, Cockrell School of Engineering)
Laboratory experiments and modeling to accurately evaluate critical CO2 saturation for geologic carbon storage: Timothy "Tip" A. Meckel and Sahar Bakhshian (Bureau of Economic Geology, Jackson School of Geosciences) and David DiCarlo (Department of Petroleum and Geosystems Engineering, Cockrell School of Engineering)
Environmental monitoring, supply chain, circular economy and policy
Uncertainty Quantification for Circular Economies and Supply Chains: Michael Baldea (Oden Institute and McKetta Department of Chemical Engineering) and Erhan Kutanoglu (Walker Department of Mechanical Engineering, Cockrell School of Engineering)
Developing a Network of Ecological Sensors for Analysis of Long-Term Acoustic and Environmental Data: Timothy Keitt and Andrea Contina (Department of Integrative Biology, College of Natural Sciences)
Go Clean Fast: The Political Economy of Green Industrial Policy: Joshua W. Busby and Nathan Jenson (Lyndon B. Johnson School of Public Affairs)
Power grid and e-mobility
Smart Charging (and Discharging) of BEVs for Lower Grid Emissions and Better Grid Performance: Kara Kockelman (Department of Civil, Architectural and Environmental Engineering) and Benjamin Leibowicz (Walker Department of Mechanical Engineering, Cockrell School of Engineering)
Toward Equitable Transportation Electrification in Austin, TX: Junfeng Jiao, Kijin Seong and Abigail Johnson (Community and Regional Planning, School of Architecture)
Advanced Algorithms for Optimizing Electricity Demand of Electric Vehicle Fleets in Texas to Support the Grid and Local Communities: Javad Mohammadi and Sergio Castellanos (Department of Civil, Architectural and Environmental Engineering; Cockrell School of Engineering)
MEDIA CONTACT:
Karen Adler
Office of the Vice President for Research, Scholarship and Creative Endeavors