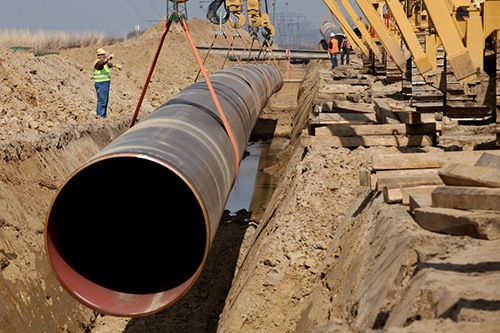 Energy Infrastructure of the Future
A multi-year, interdisciplinary study and interactive tool to better understand the costs and impacts associated with investment in the nation's aging energy infrastructure.
The world is undergoing a variety of transitions as a result of demographic, economic, climatic, technological, and social forces that are shifting how we acquire and utilize energy. These transitions will result in trillions of dollars of infrastructure investment in the United States by 2050. However, there is a striking lack of consensus on what infrastructure will be needed and the optimal pathways for public and private stakeholders. Consequently, we risk making permanent investments without understanding the full implications of costs and impacts. This research effort intends to better inform those choices by creating a framework and unique tools to explore how future energy services will be provided and how energy resources are produced, moved, and consumed throughout the U.S.
Energy Futures Dashboard
This interactive product was developed by the Energy Institute to illustrate future pathways of energy infrastructure by leveraging insights from research and data from multiple federal agencies. The dashboard allows users to create their own scenarios for one of 13 U.S. regions for the year 2050. By varying the range of inputs and selections, users can produce energy infrastructure models with three key objectives: the mix of electricity generation sources, the percentage of light-duty vehicles that are electric, and the percentage of households heated by natural gas and electricity. After choosing the percentage of "electricity mix" to come from each type of resource – for example, 50% from solar, 25% from wind and another 25% from natural gas – the Energy Futures Dashboard performs real-time calculations using data and statistics from sources such as the U.S. Energy Information Administration, the Federal Energy Regulatory Commission and the National Renewable Energy Laboratory. Users can also create a customized report that presents a sharable summary for the scenario, including the number of power plants required, related CO2 emissions, land use, and costs.
Energy Futures Dashboard User's Guide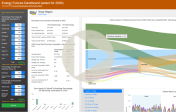 This video provides an overview for using the Energy Futures Dashboard.
Project Contact: Carey King
Email: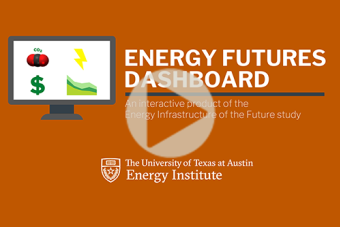 The United States Association for Energy Economics (USAEE) hosted a conversation between Dr. Carey King, Assistant Director of the Energy Institute, and Armond Cohen, co-founder and Executive Director of the Clean Air Task Force, moderated by Energy Institute Director Dr. Varun Rai.
Dr. Carey King, Assistant Director and Research Scientist with the Energy Institute at The University of Texas at Austin, gives a walk-through of the Energy Futures Dashboard.
Dr. Carey King, Assistant Director of the Energy Institute, and Asher Price, reporter for the Austin-American Statesman and 2019 UT Energy Journalism Fellow, discuss the challenges and variables that could impact major supplies and demands of energy through the year 2050 across the U.S and what possible outcomes may result from infrastructure development around the country.