Energy Institute Student Hub
Clubs, events, and opportunities for students of all disciplines interested in creating solutions to energy challenges.
Join us for a first-of-its-kind event bringing together energy professionals and students from across all areas of study—from engineering to communications to policy to fine arts—for an afternoon of discussions and networking centered on the importance of cross-disciplinary collaboration in energy innovation, and the key role UT students have to play in strengthening our Texas innovation ecosystem.
Hosted by the UT Energy Institute, Jon Brumley Texas Venture Labs, Longhorn Energy Club, and the UT Texas Entrepreneurship Exchange for Energy (TEX-E) fellows.
UT offers a variety of resources and opportunities for students interested in energy.
---
Active Student Organizations 2023-2024
Resources & Opportunities
Activate Fellowship (Apply by Oct. 17, 2023)

Application due by Oct. 17, 2023

Open to graduate students with 4+ years of post-baccalaureate research experience in TK 

This two-year fellowship provides early-stage science entrepreneurs with funding, technical resources, and support from a network of scientists, engineers, technologists, and fellow entrepreneurs, to help bring research to market.

Application Timeline

| | |
| --- | --- |
| August 2, 2023 | Panel Discussion |
| August 23, 2023 | Office Hours |
| October 17, 2023   | Application Due Date |

 
AES Energy Innovation Challenge (Apply by Sept. 20, 2023)

The AES Energy Innovation Challenge is a competition that brings together teams of graduate students from diverse backgrounds to create and present solutions to relevant problems the energy industry is facing. AES wants to challenge aspiring energy professionals to explore new and potentially untapped solutions.
Career Fairs: Fall 2023

Several schools and colleges will be hosting career fairs on campus in September and October. 

 
Chevron Energy Graduate Fellowship Endowment (Spring 2024)

Administered by the UT Energy Institute in collaboration with Chevron and the UT Graduate School, this annual award provides $10,000 to outstanding graduate students working on energy systems research.
Genesis (Spring 2024)

This UT-based startup fund provides student innovators with startup capital and real-world investment experience. Genesis' Smart Energy Call for Innovation (C4i) invests in transformative student startups building 21st-century smart energy solutions. Stay tuned for the 2024 C4i.

*Open to undergraduate and graduate students
Green Fund

This competitive grant program supports sustainability-related projects and initiatives proposed by university students, faculty, or staff. Funds are awarded each May through an annual grant competition. Alternatively, a limited number of mini grants are awarded on a rolling basis. 

*Open to students, faculty, and staff

 
Green Labs

Green Labs is a resource to help researchers run more environmentally-friendly labs without sacrificing the integrity of their work. Green Labs assists researchers with minimizing waste, reducing water and energy use, and utilizing the concepts of Green Chemistry. 

*Open to students, faculty, and staff
The Innovation Lab

Located at the J.J. Pickle Campus in North Austin, in the EME Building, The Innovation Lab is a wet lab incubator space available for early-stage startups.

*Open to startups that have a license agreement with UT Austin.

 
The LaunchPad

The LaunchPad at UT Austin is an entrepreneurship hub that helps undergraduate and graduate students of all majors explore and navigate entrepreneurship on the 40 Acres. Signature programs include the Bridge Venture Fellowship, the Entrepreneurial Mindset Bootcamp, the Gap Year Founders program for alumni, the SEAL Summer Accelerator, and the StartUP grant program.

*Open to undergraduate and graduate students
Ocean Exchange Collegiate Call for Solutions (Apply by Sept. 25, 2023)

This annual competition grants an award to the students or student team whose innovative solution best advances understanding of the ocean and helps minimize impacts on the ocean's resources, even while using them for human benefit, resulting in more resilient bodies of water, including healthy marine life and coastlines. 

*Open to undergraduate and graduate students

Deadline: September 25, 2023
Power the Community (Apply by Dec. 15, 2023)

This competition challenges student teams to design the energy infrastructure for a community of 2,000 families, each supported by the combined salaries of a nurse and a schoolteacher. Your design must be affordable, reliable, and sustainable, and should improve the lives of community members by providing access to clean, safe, and efficient energy. The winning team receives a grand prize of $31,000 and the opportunity to showcase their design to industry experts.

*Open to undergraduate and graduate students

Enrollment ends December 15, 2023
Product Prodigy Institute

This two-semester program takes students from underprivileged and underrepresented backgrounds through the process of learning the skills to launch their own venture. The second year of this program is optional and it goes much deeper into product management training.
StartUP Grants (Apply by Sept. 28, 2023)

The StartUP Grants initiative is offering up to $15,000 this semester for undergraduate students to pursue diverse entrepreneurial projects and opportunities.

Grants range from $250 to $1,500 and can be used for various projects related to customer discovery, prototype development, pilot deployment, travel expenses, living stipends for unpaid and/or low-paying startup internships, and more! 

This funding can be applied to activities ranging from customer discovery and prototyping to supporting living expenses for unpaid or low-paying startup internships, among other possibilities. Students participating in the program also benefit from mentorship and a supportive community of like-minded peers.

Deadline: Sept. 28, 2023

*Open to undergraduate students
Student Entrepreneur Acceleration and Launch (SEAL)

Student Entrepreneur Acceleration and Launch (SEAL) is UT Austin's selective summer accelerator that picks the most promising emerging startups across campus and helps them confront their next market-driven milestone. Application period opens in the spring.

 
TEX-E Program

A first-of-a-kind collaboration among UT Austin, Texas A&M University, University of Houston, Rice University, and Prairie View A&M University—powered by Greentown Labs and MIT's Martin Trust Center for Entrepreneurship—to create a powerful student-driven entrepreneurship ecosystem in Texas. This program hosts the TEX-E Prize startup competition, sponsors a multidisciplinary energy fellowship program (application period opens March 2024), and more.

*Open to undergraduate and graduate students
UT Climate Leaders Program (2024-2025)

Climate LEAP is a year-long, paid internship program that offers students hands-on, practical experience developing a greenhouse gas emissions reduction plan for an organization. The application period for current school year is closed; stay tuned for info on applying to be part of the 2024-2025 cohort.

*Open to all undergraduate students
Academic Programs & Special Courses
Energy 101: Energy Technology and Policy

A digital energy literacy course developed by Dr. Michael Webber and Dr. Yael Glazer of the UT Webber Energy Group.
Energy, Finance, Law and Science Track (EFLS)

Make your study path uniquely yours, designed to match the energy career of your dreams. The Texas BBA Program gives finance majors the opportunity to specialize in Energy, Finance, Law and Science (EFLS).

*Open to undergraduate Finance students
Energy Management Minor (EMM)

Requiring a total of 18 credit hours, this minor is offered through the McCombs School of Business. Students may choose from a range of classes in energy policy, law, business, and technology.

*Open to all undergraduate students
Energy-Related Courses: Fall 2023

The Longhorn Energy Club has compiled a list of energy-related courses taught in Fall 2023. Check it out!
Energy Ventures Practicum at Texas Venture Labs (Spring 2024)

Taught by leading academic minds in energy innovation, this project- and lecture-based practicum gathers students into multidisciplinary teams drawing from business, policy, law, natural science, geoscience, and engineering. Each team selects a novel idea for an energy-related service, technology, or business model, culled from ideas pitched to the class by labs and companies. Over the course of the semester, teams shape viable business plans for these ideas, learning along the way how to assess new technologies, target new opportunities, and understand and leverage policy. Teams conclude the semester having laid the groundwork for real-world commercialization of their idea. Over 35 companies have been launched out of the energy practicum course in the last 10 years at MIT.

*Open to graduate students, with limited seats available for undergraduates
Graduate Portfolio Program in Energy Studies (GPPES)

Designed to give students a broad picture of the energy field, this interdisciplinary program considers energy issues from an overall policy perspective, based on an understanding of the technological and environmental pressures involved. The program is open to students who are currently registered in any UT graduate program. Completion of the GPPES is noted on a student's final transcript, providing future employers with an indication of the student's credentials in the field.

*Open to graduate students
Sustainability Degrees & Certificates

UT Austin offers a variety of degree and certificate programs for students pursuing careers in sustainability. 

*Open to undergraduate and graduate students
UT Energy Symposium

This weekly guest lecture series serves as a "convener" for the campus community, uniting students interested in energy issues with faculty and others working on sustainable energy security. 

Students, staff, faculty, and members of the public are welcome to attend lectures on a drop-in basis. Students may alternatively choose to register for and attend the 15-week seminar for a one-hour course credit.

*Open to students, faculty, staff, and the public

 
Texas Engineering Executive Education (TXEEE)

TXEEE, a division of the UT Cockrell School of Engineering, provides a variety of academic programs, corporate education offerings, and professional development opportunities. 
Women's Initiative for Entrepreneurship and Leadership Development (WIELD Texas)

WIELD Texas is a two-year, credit-bearing program committed to advancing the number of women in executive leadership and is a program open to all students regardless of their background. 
Please let us know if there are any additional energy-related student resources or opportunities that we did not list on this page.
Join our student listserv to receive news about energy-related events and opportunities, such as job and internship notices, calls for proposals, and more.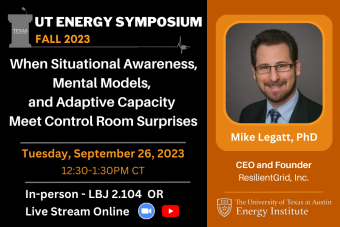 In-person and virtual UT Energy Symposium with Mike Legatt, PhD
September 26th, 12:30pm - 1:30pm CT