Wendy Wagner
Professor, School of Law
Published January 25, 2018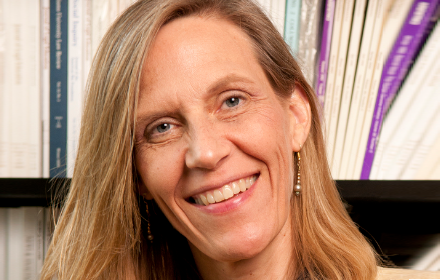 As a child growing up in the suburbs outside Chicago, Wendy Wagner knew early on that she wanted to devote her life to protecting the environment.
Growing up in a family of nature lovers, Wagner spent a good deal of time outdoors, exploring the native habitat surrounding Lake Michigan on family day trips.
Her days on the hike-and-bike trails and waterways of the Midwest contrasted with the realization that she was also breathing polluted air.
One early experience particularly stands out in shaping Wagner's early aspirations: her family had just moved over the state line to a new home "just downwind" of the heavily industrialized city of Gary, Indiana when her mother detected the odor of natural gas, prompting a call to the local utility.
" 'Get used to it,' " Wagner recalls the gas company employee telling her mom. " 'That's the steel mills.' "
Today, Wagner is a professor in UT Austin's School of Law and a leading authority on the use of science by environmental policy-makers. Since arriving at UT in 1999, she has taught courses in environmental law, policy and regulation, as well as seminars on law and science, and citizen participation in environmental causes.
At UT, much of her research has centered on the science-policy nexus. For example, she has studied the science of hydraulic fracturing and the implications of pollution from coal-fired utilities. 
"Most of my research is somewhat conceptual, so that the institutional problems I extract lift easily from one field to another," she says.
Wagner also has been involved in the formation of clinics focused on remedying environmental inequities and providing assistance for low-income residents.
"UT is amazing," she says about her decision to join the university, adding that she came to Austin because of its "rich community of faculty and scholars."
Prior to joining the faculty at UT, Wagner taught at Case Western Law School in Cleveland and was a visiting professor at Columbia and Vanderbilt Law Schools.
Wagner's love of nature led her to study biology at Hanover College, a small liberal arts school in southern Ohio, where she graduated summa cum laude.
At Hanover, her research focused primarily on the ecology of benthic diatoms and other microalgae in wetland systems. In addition to her coursework, she conducted research at several summer research institutes, including the Marine Biological Laboratory, Woods Hole, Massachusetts; the University of Michigan Research Station in Pellston Michigan; and the Iowa Lakeside Laboratory in Okoboji, Iowa. 
"I was a 100% geek for environmental science," she recalls with a laugh, noting that during this time she also developed "an acute awareness that things were not right."
Wagner received a Masters of Environmental Studies from Yale in 1984 and even began a Ph.D. in ecology from the University of Virginia School's Environmental Science, before realizing that a career as "a bench scientist" wasn't enough.
"I looked back on my hopes and dreams as a seven-year-old, and thought of myself hunched over a microscope looking at algae," she recalls. "It put me too far from the action."
Her passion for protecting the environment would require "getting my hands dirty in the real world of politics" and law, she says.
She continued her graduate work at Yale, where she served as Senior Editor of the Yale Law Journal and Managing Editor of the Yale Journal of Regulation. After earning her law degree in 1987, she clerked for Albert Engel, Chief Judge of the Sixth Circuit U.S. Court of Appeals, in Grand Rapids, Michigan.
Wagner pursued the hands-on experience she craved as an attorney in the Enforcement Division of the Department of Justice's Environment and Natural Resources Division, where she tried a number of prominent cases, including a large Superfund case. She then took a position in the General Counsel's Office of the Department of Agriculture, where she managed DOA agencies on compliance under federal pollution control laws.
Practicing environmental law in the crucible of Washington, D.C. quickly disabused Wagner of what she now acknowledges was a naïve perspective on the interplay of science and law.
As a student, she had believed that obstacles standing in the way of true progress could be ameliorated by "science doing a better job of explaining itself."
Her work in the trenches of environmental law revealed what she came to see as an overblown faith or reverence for science that can lead to "over-trust" and a lack of critical thinking.
"The problem is people don't understand enough to be skeptical," Wagner notes.
She also witnessed a legal and judicial system – including court-made rules, legislation riddled with loopholes, and obscure agency policies – that created impediments to advancement.
"In many cases, the system was not only complicit but facilitated the manipulation of science," she says.
These hard-fought and sobering experiences, learned through the blood sport of politics, led to the realization that the system allowed "many incentives for bad actors … to play massive games," she adds, adding that such "misconduct" and "grotesque inequities," particularly by corporations, manifests in many ways, not the least of which is "to stigmatize scientific research or chill researchers' work."
This more jaundiced view – which ultimately found its voice in the 2009 book Bending Science: How Special Interests Corrupt Public Health Research Wagner co-authored with UT law school colleague Prof. Thomas McGarity – hardened her resolve to expose the insidious failings within the legal system that informs her research and teaching to this day.
Regrettably, she says of the current arrangement, "money rules."
"This is not a story that has a happy ending."
In a time of 'fake news' and 'alternate facts,' it's more important than ever to examine deep-seated assumptions and think critically about the role of science in society, Wagner maintains. That will demand more scrutiny from the public, and of academics, to "better diagnose" the problems.
In a way, Wagner has come full circle – figuratively and literally. For the past 10 years or so, she has spent the spring semester in the Cleveland area, conducting research and writing.
"It's an interesting life," she says of her semi-annual commute between Austin the region where she grew up. "I love my students and I love doing research."
When not at her computer conducting research, Wagner spends time with her family on a sailboat or kayak on Crystal Lake in northern Michigan – "the cleanest lake in North America."