Varun Rai
Professor of Public Affairs & Professor of Mechanical Engineering
Published February 26, 2016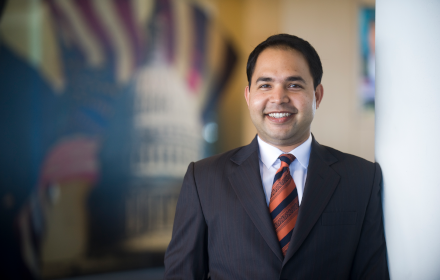 Dr. Varun Rai decided years ago to focus his attention on some of the biggest questions facing our world – namely, the status of today's global energy system, and where it needs to be at the end of the century.
Rai, who holds a bachelor's degree in Mechanical Engineering from the Indian Institute of Technology, Kharagpur, came to UT Austin in July 2010 after earning his Master's degree and PhD, also in mechanical engineering, from Stanford University.
As a professor in the LBJ School of Public Affairs, Rai studies how the interactions between the underlying social, behavioral, economic, technological, and institutional components of the energy system affect the adoption of clean energy technologies.
His research, which by nature is interdisciplinary, tracks the interplay of market forces, public policy, regulations, and politics as they affect the deployment of sustainable energy innovations.
"In the broadest sense, I work on drivers of innovation and diffusion of energy technologies," he said from his office in Sid Richardson Hall.
One of the central components of his research approach has been the development and application of novel quantitative analytical methods to large-scale, integrated datasets.
Over time Rai's research has evolved to focus increasingly on the behavioral aspects of technology adoption – for example, the factors that drive people to take the leap to invest in new energy technologies such as solar and plug-in hybrid vehicles.
"The thing that I am most interested in is what factors contribute to an acceleration of the deployment" of clean energy technologies, "or present themselves as bottlenecks," he said.
Examining barriers to deployment "allows me to think about policy solutions and other approaches to address those bottlenecks," Rai added.
Rai's research shows that two factors emerge as prominent drivers of consumer behavior in this area: social forces, such as uncertainties surrounding the use of new technologies, and the creation of innovative business models to finance residential solar systems.
"The decision to go solar is in the realm of very limited big-ticket decisions," he observed, noting that one of the key differences between purchasing rooftop solar panels and buying a new car, for example, is the experience – or lack of it – consumers have had in those decisions.
When shopping for a new vehicle "we have some grounding in how to approach it, and every time we do it again, we're better at it – or at the least we know our preferences better," Rai said. "But that's not the case with solar; people are doing it for the first time, and most people have not done it at all."
While many consumers are interested in generating electricity from rooftop solar panels, and it could prove to be a wise decision economically, there's a great deal of uncertainty surrounding the decision-making process, Rai said.
In such situations, social forces – such as whether a neighbor has installed solar panels and has had a positive experience, for example – become significant.
Another critical aspect of the decision-making process are business models used in financing solar systems, Rai said. The more familiar consumers are with the model – monthly payments, as with a car loan, for example – the more likely they are to purchase a solar system for their home.
At the LBJ School, Rai teaches courses in Political Economy of Global Energy; Innovation and Diffusion of Energy Technologies; Social and Information Networks; and Statistical Analysis and Learning.
In addition, he leads the UT Energy Symposium, a weekly guest lecture series hosted by the Energy Institute that is open to both undergraduate and graduate students. Held during the spring and fall semesters, expert lecturers from industry, academia, government, and the non-profit world deliver presentations a wide range of energy topics, including technology innovations, climate change politics, energy policy decision-making in China and India, building cleantech communities, and the behavioral aspects of energy consumption.
The Symposium, now in its tenth semester, is held in the Avaya Auditorium (POB 2.302) on Thursday evenings from 5:15 p.m. – 6:15 p.m. Under Rai's leadership, the Symposium has become a popular event, averaging about 60 among students and faculty members each week, with attendance at times reaching well over a 100.
"What has been extremely impressive to me – and to our speakers – is the level of sophistication among our students," Rai said.
"These students don't take what the speakers are saying at face value – they dissect it, they challenge it with very hard questions," he added. "It has been very, very rewarding to see that."
Rai has published scholarly articles in a variety of scientific journals, including Nature Climate Change, Global Environmental Change, Environmental Research Letters, Physical Review E, Energy Policy, Applied Energy, and the Energy Journal.
Rai, an avid tennis player who recently became a father for the first time, served from 2013-2015 on the board of Austin Energy, the municipally owned utility of Austin, Texas. He also sits on the editorial board of The Electricity Journal and is Associate Editor for Energy Research & Social Science, a peer-reviewed international journal that publishes original research and review articles examining the relationship between energy systems and society.