Ulrich Dangel
Associate Professor and Program Director, School of Architecture
Published February 27, 2019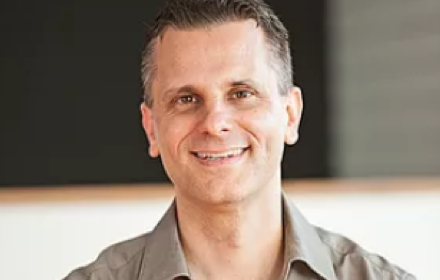 Prof. Ulrich Dangel has spent a lot of time around trees. Big, beautiful, old-forest trees.
As the child of parents from southern Germany and Austria, Dangel grew up in Stuttgart, capital of Germany's verdant Baden-Württemberg state, where he spent family vacations skiing and roaming hill and dale amid iconic scenery reminiscent of The Sound of Music.
"It was gorgeous; very romantic," he says from his fourth floor office in Goldsmith Hall on the UT Austin campus.
Today, as an Associate Professor and Program Director in UT's School of Architecture, Dangel is at the forefront of an emerging industry – applying the latest advances in 'mass timber' structures to fashion large, pre-manufactured panels for the construction of new commercial buildings.
Dangel's work is driven by his lifelong passion for design and architecture, and by a desire to combat climate change through sustainable building practices. His research focuses on the use of wood in construction and its influence on building culture and craft, as well as how it contributes to the advancement of sustainable practices for local and global economies.
"I settled on architecture fairly early on," he recalls. "It was a way for me to combine my interest in science with a more creative side" that he inherited from his paternal grandfather, a professional shoe designer who also painted.
Benefits of Wood Construction
The newest varieties of multi-layered wood products ­– cross-laminated timber, or CLT – have proven to be very competitive when it comes to strength, fire resistance, and cost, compared to materials typically used for commercial building construction, such as steel and concrete, Dangel notes.
Since the panels are lightweight and easy to transport, they can be fitted together and dropped onto construction sites for quick assembly, he adds.
Moreover, buildings made out of wood are better for the environment. Much better.
Using wood, rather than concrete as the primary material in commercial structures, for example, greatly reduces the amount of carbon emitted into the air. According to the U.S. Department of Agriculture, estimates indicate the use of mass timber products and other wood technologies in mid- to high-rise buildings could have the same emissions reduction as taking two million cars off the road in a single year.
"Trees absorb carbon dioxide as they grow, and store that carbon," Dangel notes. "So if you take these trees and harvest them, and make wood products out of them, you're actually sequestering the carbon."
From an overall life-cycle analysis, the stored energy embodied in cross-laminated timber panels is far higher than the energy used for their production, he adds.
"Rather than being a carbon emitter, your building becomes a carbon sink; it stores more carbon than it emits."
In addition, the operating energy of buildings – the energy needed to heat and cool the structures – has historically been quite high, Dangel observes. As our buildings have become more energy efficient in their operation, their embodied energy content – the energy consumed in producing the materials for their construction – has become more critical. Using timber as the primary structural system can therefore play an important role in reducing our buildings' environmental impact.
Sustainable building practices
Harvesting trees from secondary forests – and replenishing those forests by planting a tree for each one used in mass timber structures – makes for a sustainable industry, Dangel says.
For private forests, the Forest Stewardship Council, a voluntary organization that uses market forces to ensure forests are responsibly managed through sustainable measures. In addition, the replanting of trees is regulated by the Programme for the Endorsement of Forest Certification (PEFC), an international non-profit, non-governmental organization dedicated to promoting sustainable forest management through independent third-party verification.
The techniques now employed in assembly of cross-laminated timber products for construction of buildings up to 18 stories high is relatively new, Dangel says. European builders have employed the technique in commercial structures for about 20 years, but it is only now gaining traction in the U.S.
Wood construction of high-rise buildings is popular in several European cities, including Vienna, Munich, London, Amsterdam and Paris, he says, adding that he believes the use of wood will increase as countries across the globe – developing countries with emerging economies as well as industrialized nations – continue to emphasize the importance of sustainable construction practices.
While costs have come down, Dangel notes, the primary reason wood has become a material of choice is its enhanced structural performance.
As the world's population continues to grow, and the planet continues to heat up, one of the responses to these challenges is to build sustainable structures, particularly in densely populated urban areas, Dangel says.
Using wood products to help provide "sustainable, affordable, dignified, livable housing for all these people is part of the solution," he adds, stressing the importance of harvesting timber from sustainably managed sources.
Bridges from the Past
Dangel spent two years as an exchange student at the University of Oregon in the late-90s, where he was able to explore the densely forested wilds of the northwestern U.S.
"They have a very long history in sustainable design," he says, noting that the university is in close proximity to the region's legendary timber industry.
Dangel received a Master of Architecture in 1999 from Oregon in 1999 before returning to Germany to graduate with a Diploma in Architecture from Universität Stuttgart in 2000.
Upon graduation, he accepted a position in London with the internationally renowned architecture firms Foster and Partners and Grimshaw Architects, where he worked for five years on several high-profile projects, including the Frankfurt Airport, the McLaren Research and Development Centre, the Dolder Grand Hotel in Zurich., and the Education Resource Centre at the Eden Project in Cornwall.
"They were really formative years for me in terms of influencing me as a designer," he recalls.
Followings his years in the private sector, Dangel accepted a teaching position at UT, in 2005.
He points to the Austrian province of Voralberg as another major influence on his work. In the 1960s, a small cadre of local architects revived the area's age-old timber construction business, igniting a resurgence of the region's highly skilled carpentry and craftsmanship.
While Voralberg's artisan revival is contemporary, it is "steeped in rural traditions" stemming from "clever and innovative uses of wood in timber construction," he says.
The revival of such tried-and-true concepts, combined with modern techniques, inspired Dangel to write his first book, "Sustainable Architecture in Voralberg: Energy Concepts and Constructions," published in 2010.
A second book, titled "Turning Point in Timber Construction: A New Economy," published in 2017, details Dangel's fully formed ideas on the use of wood as a building material. An explanatory note introducing the book sums up his approach:
"Faced with man-made climate change and the need to provide housing for a growing world population, society needs to rethink the way future buildings are made. Wood is a truly renewable building material that is unlimited in supply if its growth and harvest are sustainably managed. Recent technological advancements in engineering allow the use of timber for the construction of multi-story structures, turning our buildings into carbon sinks rather than becoming sources for CO2-emissions."
At UT, in addition to his research with mass timber structures, Dangel teaches courses in design, construction, architectural detailing, and structural design. In his teaching, technology and its impact on architectural expression play a fundamental role in both the design studio setting as well as lecture and seminar courses.
Over the years, he has established an ongoing dialogue with architects, engineers, foresters, material scientists, and professional organizations around the world. As a registered architect in the United Kingdom, Germany, and Texas, Dangel also maintains a small Austin-based design practice with his wife, Tamie Glass, an associate professor in interior design at UT.
"We have one foot in practice and one foot in academia," Dangel says.
When not conducting his research, Dangel enjoys cooking and taking on DIY projects – mostly working with – you guessed it: wood.