Michael Young
Senior Research Scientist & Associate Director for Environment Division | Bureau of Economic Geology | Jackson School of Geosciences
Published December 14, 2016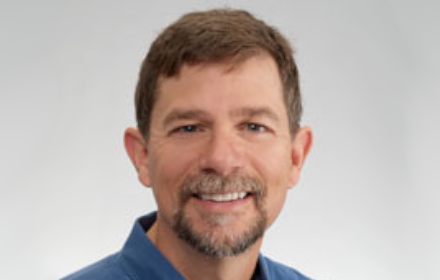 Michael Young is one of those people who figured out his life's trajectory at a very early age. In fact, he knew he wanted to learn all he could about the soil and water before he even knew what the word geology meant.
"I was always interested in science," he says from his office at the J.J. Pickle Research Campus.
"Even as a little kid, I remember digging holes in the backyard, looking for fossils, when I was eight," he recalls. "My dad told me to go out into the woods because that's where the fossils were."
Today, as a Senior Research Scientist and Associate Director for the Environment Division in UT's Bureau of Economic Geology, Young oversees a staff of 40 scientists and engineers involved in research projects covering a wide range of energy/water issues, geological sequestration of CO₂, groundwater recharge processes, and geological mapping, among others.
Young also travels a lot, presenting research he and his colleagues have published in scientific journals. Beyond that, much of his time is spent building "enduring research programs" and motivating others to maintain "a fun and functioning research environment for the Bureau."
Young still finds time to do research, mostly on topics relating to the water/energy nexus, and on landscape issues that touch on his graduate and post-doctoral work years ago in the desert climes of Arizona and Nevada.
When asked to cite one of his greatest scientific contributions, Young points to his work in heightening understanding "of how desert ecosystems are governed by, and govern, soil development and water movement."
Research in this area is "tremendously interesting," he adds, "and requires knowledge of a variety of different topics, from soil physics to hydrology to plant science to technology." Since joining UT Austin in 2010, he has helped integrate research across environment and energy-related areas, both of which are necessary for societies.
A native New Englander, Young excelled at math and science in his Norwalk, Connecticut public high school. After graduation, he enrolled in Hartwick College, a small, liberal arts school in Oneonta, New York.
During his freshman year at Hartwick, Young took courses in physical geography and historical geology. He knew then that the geology courses would help him find his place in the world.
To complete a project and graduate with honors in geology, Young programmed a computer model to simulate groundwater flow in Long Island, pointing him toward the importance of water resources.
"At the time, for the department, it was pretty outlandish," he recalls. "They literally gave me the keys to the computer center" to run a sophisticated – and power-draining – program late at night.
"That gave me the motivation to go to grad school with a focus on hydrology, with a very heavy numerical basis," he says.
For his graduate work, Young decided to attend Ohio University, little sister to Big 10 powerhouse Ohio State University, because it was one of the few schools in the region that had a strong program in applied hydrology.
There, his penchant for pulling all-nighters continued, as he and a friend and fellow researcher commandeered the only main frame terminal and two desktop computers for their research projects when everyone else was asleep.
During this time, Young recalls, he subsisted on lima beans and rice, supplemented with the occasional free meal from a nearby Hare Krishna house.
"They proselytized a little, but it wasn't too bad," he laughs.
In early 1986, Young decided it was time to put aside the textbooks and earn a paycheck, so he took a position with the Nuclear Regulatory Commission, where for two years as a hydrogeologist and project manager, he worked in a group that licensed radioactive waste disposal sites.
"I worked mostly on mill tailings, a little on low-level radioactive wastes, and about ten minutes on high-level waste," he muses.
Young toiled another two years for a Maryland-based environmental engineering consulting firm as a site manager for Superfund sites along the Eastern seaboard.
After resolving he'd had his fill of environmental consulting, Young decided it was time to get his Ph.D. He set his sights on the University of Arizona, renowned for its preeminent faculty and world-class research facilities in hydrological sciences.
Initially, he was hired as a full-time technician in the Soil and Water Science department, running its soil physics lab. In time, Young was accepted as a Ph.D. student. For the next five and a half years he worked full time and took classes, eventually earning his doctorate in 1995.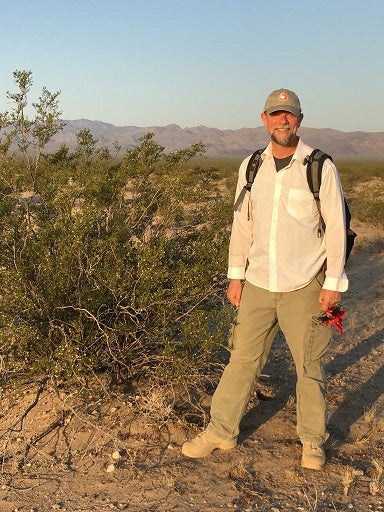 During his time at Arizona, Young pursued his research on shallow soil water movement and plant water uptake in arid climates.
"If you really want to understand water balance in a basin," he maintains, "you have to understand what's happening in the soil."
Young went on to hold assistant and senior research scientist positions at Arizona and at the Georgia Institute of Technology before taking a position with the Desert Research Institute (a research center operated by the State of Nevada), where he continued his work in hydrology and soil sciences.
He steadily rose through the ranks, serving as deputy director for five years before being promoted to Acting Executive Director of the Division of Hydrologic Sciences. He left the Institute with the academic rank of Research Professor to take a job at UT Austin in August 2010.
"I did lots of great research and had excellent students, but the economy in Nevada was terrible and I was getting comfortable," Young recalls. "I wanted to mix up the deck and try something new."
"A position at the BEG opened up at the right time, and my wife and I decided to make the change."
It has been a rewarding six years of work, Young says, and yet there are always challenges on the horizon.
"I'm hopeful to be able to make contributions in the area of landscape assessment, and how remote sensing can be used to study possible land fragmentation from oil and gas activities, urbanization and agriculture," he says.
The goal of such research is to make incremental changes that, over time, help preserve the natural environment.
"For many sites in Texas, this would be really beneficial to landowners and ranchers who want to reduce land impacts from energy development while still benefiting from the activities themselves," Young adds. "We can do both!"
When he's not on an airplane, or on a Skype call with other researchers while staring at his computer, Young spends what little free time he has cycling, reading, listening to music, and enjoying life where it all began, doing "just about anything outdoors."