Melinda Taylor
Senior Lecturer, School of Law | Executive Director, KBH Center for Energy, Law & Business
Published December 15, 2015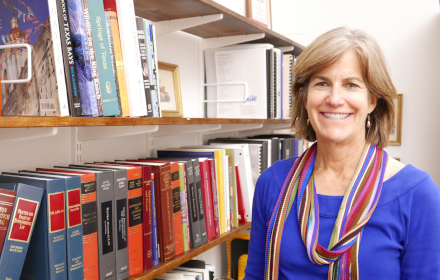 Throughout her career, Melinda Taylor has sought inventive solutions to sensitive environmental issues by seeking a middle ground that all sides can live with. Now, she's working to instill the fundamentals of that approach in her students.
As executive director of the Kay Bailey Hutchison Center for Energy, Law & Business, Taylor stresses the critical need for a well-rounded understanding of the law that takes into account a variety of perspectives and disciplines, including science, business, and policy.
Taylor, who remains an avid reader with wide-ranging interests dating back to her undergraduate work as a Plan II major, says the KBH Center – formed by the university's School of Law and McCombs School of Business – was founded on that principle.
"I firmly believe that students will be far more effective in the workplace if they have some exposure in law school to business principles; some engineering and science; because these issues are so interdisciplinary in nature," she says.
As a senior lecturer, Taylor teaches courses in natural resources law, which focuses on endangered species, wetlands and wildlife preservation, and fisheries management; and coastal watersheds, which she co-teaches with Prof. Jim McClelland of the Marine Science Institute.
Taylor honed her brand of pragmatic advocacy while working for the National Audubon Society and the Environmental Defense Fund (EDF).
Her work at EDF, she says, focused on "finding solutions and approaches to problems that all sides could live with – that old-fashioned notion of compromise, but also to move the ball forward and end up in a better place environmentally."
As state director of EDF's Raleigh, NC office and then director of the organization's Ecosystems Restoration division in Austin, Taylor helped forge broad-based coalitions aimed at producing workable compromises involving endangered species, water rights, and other environmental issues.
"It was a great job," she recalls. "I worked with fantastic colleagues and really smart people."
"I really respected the very practical approach that EDF took," she adds. "The fact they didn't see the world in terms of black and white or good vs. evil. It was much more about finding creative solutions and approaches to problems."
Much of Taylor's time at EDF concerned the U.S. Fish and Wildlife Service's Endangered Species Act. She often worked directly with private landowners to develop incentives to protect threatened species or restore habitats.
"The way the Act is structured, there's really not an obvious incentive for somebody to want to protect endangered species on their property," Taylor says, "because once a habitat has been designated as endangered, use of the surrounding property is restricted."
Initially, EDF expected the most likely incentive for property owners would be financial. As it turns out, what landowners wanted more than money was some regulatory flexibility.
In response, EDF worked with landowners to develop proposals that resulted in greater environmental protection for endangered species while also recognizing private property owners' interests.
"It just made so much sense," Taylor reflects.
While at EDF, Taylor also helped implement the nation's first Safe Harbor program, which protects habitat for native species such as the Golden-cheek Warbler and Houston Toad under the auspices of the U.S. Fish and Wildlife Service. The program was the product of a strong coalition of private and public organizations, including landowner groups, environmental organizations, and state agencies.
Taylor also was involved in the creation of a water trust in the Trans-Pecos are in far West Texas. The non-profit organization purchases water rights from farmers and irrigators, keeping the water flowing in stream for regional wildlife.
"We were looking for creative tools to help conserve water," she notes. "We weren't so much arguing for stronger regulations, but were looking at market-based approaches to water conservation."
When asked which is more effective in resolving such prickly issues – stringent regulations or market-based incentives – Taylor again points to the middle-ground approach that has proven effective.
"You've got to have both," she says. "The market-based approaches don't work unless there's some regulatory framework that's fairly rigorous. But the heavy hand (of regulations) won't work alone if there's not much chance for relief for water rights' holders."
After completing her undergraduate work in Plan II, Taylor, a Baton Rouge native who grew up in Houston, stayed on at UT to earn her law degree.
In the late 1980s, she moved to Washington, D.C., where she worked in the environmental section of Bracewell & Patterson, where she advised energy and chemical industry clients on their legal exposure for properties designated as Superfund sites.
"It was very interesting work; great training," she recalls.
After a few years, Taylor took a position as general counsel for the Audubon Society, which had been granted special intervenor status in a Supreme Court case centering on a water rights dispute between Nebraska and Wyoming. Taylor argued on behalf of Nebraska, to ensure enough water flowed downstream from Wyoming to support the Big Bend region of the Platt River, an important habitat for whooping cranes and sand hill cranes and other migrating birds.
"That's where I first became fascinated with wildlife," she recollects.
While at the Audubon Society, Taylor was part of a small coalition of environmental groups pushing for stronger federal regulation of oil and gas waste. The Interstate Oil and Gas Compact Commission (IOGCC), which represents oil and gas producing states, maintained that that individual states should regulate oil and gas wastes, obviating the need for a federal regulatory framework.
"It's the same debate we continue to have about fracking," Taylor notes.
The environmental groups lost that battle but were invited to participate in a cooperative initiative formed by the IOGCC that reviewed state regulatory programs.
"It was fascinating – I learned a lot about how Congress works. But I have no desire to be a lobbyist," she adds with a laugh.
In keeping with her emphasis on the sweeping nature of energy and environmental work, Taylor stresses the importance of promoting energy research underway at UT Austin's schools, colleges, and other academic centers. To that end, she intends to continue working closely with the university's Energy Institute, which fosters the sort of interdisciplinary energy research Taylor sees as essential.
"I think the more all of us talk about all the outstanding research that's being done … it's to all of our benefit," she says.
She also strongly supports the UT Energy Poll, a national online survey managed by the McCombs School of Business that tracks public perspectives on a range of topical energy issues twice each year.
"I think it's one of those flagship type projects because it generates so much press and so much interest, and there's no one else doing a poll like that," she says.
Taylor, a mother of two, loves to exercise – she runs daily – and hikes with her family during summer vacations in Oregon.
She's also a big sports fan and a voracious reader.
"I like all sports, especially college sports – football, basketball, baseball, volleyball."
As for reading, "I'll read anything," she says. "Fiction, psychology; memoirs; just about anything at all."
Even law books – which still are useful, she says, particularly when researching arcane state laws.
"I love the library," she adds.