Juan Ontiveros
Associate Vice President for Utilities, Energy and Facilities Management
Published October 31, 2016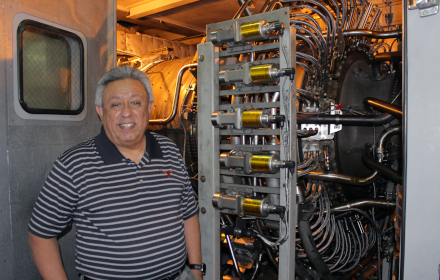 As the man behind the machines that power UT Austin's campus, Juan Ontiveros has developed quite a reputation – not only among his peers on other college campuses, but among private and public utility operators of all sizes.
Visionary is seldom a word used to describe someone who runs power plants, but in this case it fits the bill – Ontiveros has painstakingly executed a plan he developed years ago to modernize and upgrade the entire power system.
Today, UT is often described as having the largest and most fully integrated microgrid in the U.S. – providing 100 percent of the university's power, heat, and cooling for the campus' 160 buildings. The system is widely recognized as a model of efficiency, saving energy and money for the campus.
Under Ontiveros' watchful eye, the microgrid matches the system's needs in real-time with sophisticated load balancing
"We're kind of the example for the country," Ontiveros notes, while giving yet another tour of the now-famed power plant and associated facilities.
A passion for efficiency
Ontiveros is a passionate guy. He'd have to be, to talk with such relish and delight about how efficient UT Austin's power system works.
He's driven by a desire to get things right, which at times means taking chances.
"I'm a risk-taker – that's my nature," he says.
There's something else that drives Ontiveros besides passion for his work. It has to do with an undergraduate professor of his back at UT El Paso, his hometown school, where he earned his undergraduate and master's degrees in mechanical engineering.
Originally, he had wanted to be a teacher, he says, but decided he wanted to push himself and take on more challenging coursework. He decided to switch his major to engineering.
One of his advisors told him he wasn't cut out to be an engineer.
"I told him, 'I think you're wrong'" Ontiveros recalls. "I ended up getting my bachelor's in three and a half years – and then he gave me a scholarship" for my graduate work.
'We're like a city'
One of the biggest decisions Ontiveros made at UT was to purchase a new a natural-gas fueled combined cycle turbine – essentially a jet engine – to make sure the campus has efficient power generation year round to keep the lights on and the buildings cool. The turbine helps meet the campus' 60-MW demand of peak power, the equivalent of the energy needed for 25,000 homes.
He rattles off the model number of the turbine – GE LM 2500 +G4 DLE – an illustration of just how intimately involved he is with his system, and notes that it was first of its kind to be put in operation anywhere in the world.
"When we bought the machine we wanted ultra-high efficiency and low NOx output to make sure we met our emissions permit requirement," Ontiveros notes. "We didn't know it was the first in the world; they didn't tell us."
"We've had a few issues with it," he adds, "but we've worked through those."
Heat from the turbine is used to create steam, which in turn is used to generate even more electricity. The remaining steam is then pumped through tunnels to heat buildings across campus.
The system also includes 45,000 tons of chilled water capacity, a 4 million-gallon thermal energy storage tank, and 6 miles of underground tunnels that distribute hot water and steam throughout the campus. This has been augmented by a new 15,000-ton plant, two hot water plants and a 5.5 million-gallon thermal energy storage tank to help serve the Dell Medical School.
"We're like a city," he says. "We're providing electricity; we're providing cooling; we're providing heating – all from natural gas."
Ontiveros says a key to achieving his goals is through fuel savings. His "side job" is purchasing natural gas, mainly through long-term contacts he negotiates on behalf of the university. All told, UT spends $20 million a year on the natural gas for its generators.
"Every dollar we save is a dollar for the university," he says.
After arriving on the UT Austin campus nearly 20 years ago, Ontiveros sat back and observed, often working 100-hour weeks so he could learn the system inside-out. It was three years before he began making changes.
Installation of the turbine was one of the biggest pieces in his comprehensive, multi-phase plan to upgrade the campus' power delivery system. Over time, he has overseen more than $250 million in various projects, including construction of a new substation, steam and gas turbines, cooling tower and chilling stations, and a water-heating facility.
It has taken years to implement, but the result of all that meticulous planning and single-minded purpose has been nothing less than transformative.
As an institution known for its top-notch research facilities, Ontiveros had to be sure that any changes in UT's power-delivery system would retain high-quality, reliable power.
The proof is in the numbers: the system's microgrid consistently achieves 99.9998 percent reliability, experiencing only five brief power outages over that period. Overall plant efficiency was 62 percent when he arrived; today, it's at 87 percent.
By comparison, the average U.S. power plant has a 32 percent efficiency rating.
"Because of the way we recycle the energy, we only waste 13 percent," Ontiveros says. "We've done it with new equipment, by upgrading it smartly, and more optimization."
Thinking holistically, challenging others
Asked to explain the secret of his success, Ontiveros points to others.
"I learned years ago: you're as smart as your weakest guy," he says. "So I always hire people smarter than me. You'll never fail that way."
His job, he says, is to challenge people.
"I come up with the next idea; I'm good at looking at things holistically," he notes. "And I know how to build teams."
Ontiveros' efforts have garnered him several awards, but he remains humble about what he, and the university he loves, has accomplished.
A year ago, he was honored with the inaugural Robert W. Galvin Award for Performance Excellence in Electricity Renewal by the U.S. Green Building Council, and he also has been the recipient of the International District Energy Association's highest honor, the Norman R. Taylor Award.
In 2009, International Energy Agency (IEA) honored Ontiveros with its first global District Energy Climate Award at the District Energy Summit in Copenhagen for providing "low-carbon, energy efficient district energy systems … that are win-win solutions for the environment, energy security and local economic growth."
Through a variety of speaking engagements, appearances, and training programs Ontiveros has, in a way, realized his early dream of becoming a teacher.
"The things that we do here can benefit the world," he says. "I think that one my responsibilities is to share what we've learned."