Joshua Rhodes
Research Associate, Energy Institute | Webber Energy Group
Published October 25, 2018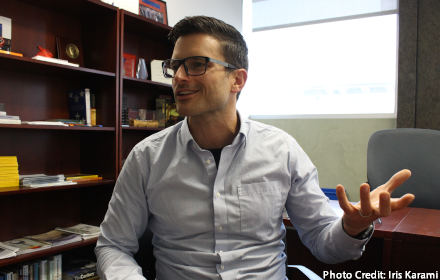 Joshua Rhodes has always been good with numbers, but it took him a while to figure out how to turn his love of calculations and equations into a viable profession.
Rhodes, who grew up on a farm in East Texas, had parents and a particular Calculus teacher (Mrs. Clark) who helped cultivate his talent for math. When it came time for college, he decided to attend his hometown school, Stephen F. Austin State University, where he earned undergraduate degrees in Math and Economics.
Waste not; want not
"I was always good at math, and I always liked taking things apart and building things," Rhodes recalls. "But what I was really interested in was efficiency; I always hated wasting stuff."
Still unsure how to convert his aptitude for numbers into a livelihood, he decided to continue his education, earning a Master's degree in Computational Mathematics from Texas A&M University.
Rhodes then did what a lot of college graduates do and roamed around Europe for six weeks, taking in the sights and taking a break from the books.
Back in the States, he decided to take a job on a construction crew in Colorado – a position he was well suited for after working summers at his Dad's sawmill in the Piney Woods.
"It gave me time to think a little more broadly about what I wanted to do," he says of his stint building homes in the Rockies.
One day, Rhodes happened to strike up a conversation with a fellow laborer who was installing residential solar panels.
The man lamented the loss of his previous job, erecting wind farms along the state's Eastern Plains, commenting that the downturn in wind turbine installations resulted from a paucity of water needed to make the concrete used to construct subsurface foundations and crane pads.
"That seemed crazy to me," Rhodes recalls. "I was like, 'Really? That's why we're not installing more wind turbines in Colorado? Because we don't have enough water to mix concrete?' "
And there it was: his Eureka! moment.
With the construction job about to end anyway, Rhodes immediately perceived the fortuitousness of this random exchange with a stranger, and a path forward emerged. If he wanted to put his education and skills to work on problems like this, he needed to become an engineer.
A few weeks later, he hung up his tool belt and headed home to Texas to enroll in UT Austin's Cockrell School of Engineering, for the fall 2010 semester.
"Having a master's in mathematics was really helpful," he says of his reentry into the academic world.
Two years later, Rhodes picked up a second Master's degree in architectural engineering.
"I was interested in buildings, and how buildings use energy."
By that time, Rhodes was working in the Webber Energy Group, conducting research that would form the basis for a Ph.D. in civil engineering, which he was awarded in 2014.
Crunching data
Much of Rhodes' time during this period was spent analyzing data on buildings' energy use compiled by Pecan Street Inc., a non-profit research organization formed in 2009 by UT Austin, the City of Austin and its electric utility, Austin Energy, the Austin Technology Incubator, the Greater Austin Chamber of Commerce, and the Environmental Defense Fund.
"I loved it; it was great," he says of his work with Pecan Street. "No one else had that kind of data."
Rhodes' Ph.D. dissertation centered on how residential buildings use energy, and how homes can be optimized to use energy better.
"There had been a lot of studies on residential energy efficiency," he says. "But this was the first time we were able to look at energy use … on a minute-by-minute basis."
By conducting a cluster analysis of energy use among consumers who used electricity in similar ways at the same times of day, Rhodes was able to predict some of the key demographic factors driving such behavior, such as people who work from home; have school-age children; work on weekends; etc.
His dissertation also explored the many variables that determine optimal solar placement on residential dwellings across the U.S., a topic he has written about extensively.
Today, as a researcher at UT's Energy Institute and Webber Energy Group, Rhodes examines how energy policy can affect the efficiency of local economies, with particular attention on policies that utilize market forces to increase the efficiency of residential building stock. 
An underlying motivation for his research is improving global access to energy.
"If you don't have energy, you can't really function in today's society," he argues. "If you have energy you can clean water; if you have energy and water you can grow food; if you have food then you can go to school; if you can go to school you can make yourself better."
"We've got to figure out how to make lots of energy and make it cheap," Rhodes concludes. "And if we can, a lot of these other problems fall away."
Renewables & the grid
Rhodes is particularly interested in solving questions related to increased integration of renewable energy technologies into the electric grid and the challenges surrounding de-carbonization.
Many engineers, Rhodes says, are relatively confident that most of the nation's electricity needs can be met through renewable technologies. Getting to 100 percent renewable, however, is a tall order.
"It's technically possible to get to 100 percent renewables," he notes, "it's just expensive."
His preferred approach is to focus on the goal of removing carbon from the grid, rather than on the technologies used to get there.
"I think it's a better idea to focus on the outcome, rather than on the tools to get to that outcome," Rhodes says. "It gives us more room to work; a greater chance for success."
While many economists agree the most efficient way to clean up the grid is to put a price on carbon, "tax is a four-letter word," he adds.
In the end, putting a price on carbon is likely be the most equitable way to make the grid greener, Rhodes says, especially if the social costs associated with electricity generated from fossil fuels – so-called externalities – are accounted for.
"It gives the market a clear incentive to solve the problem," he says, noting that a price on carbon could help combat climate change through the development of unforeseen innovations, such as lower-cost nuclear power or carbon capture, for example.
Communicating the value of science
As an adherent of Webber Energy Group director Michael Webber's tenet that scientists have an obligation to communicate their research to the public, Rhodes frequently weighs in on topical energy issues. In addition to authoring dozens of academic journal articles and white papers, Rhodes has become a prolific op-ed writer and often shares his insights in the news media on a variety of energy issues. He also is quite active on social media, with nearly 3,000 Twitter followers.
Rhodes covers a great deal of ground in his op-eds, with particular attention to issues related to the electric grid, the interplay of varying generation technologies, and the role of economics and market forces in electricity supply and demand.
Some of his recent op-eds include:
When not staring at his computer, trying to make sense out of data or tweaking the latest economic model, Rhodes, a fitness buff, enjoys mountain biking, rock climbing, ocean kayaking and just about any other vigorous outdoor activity.
Figuring he might as well try to make the most of his schooling and physical fitness, Rhodes applied for the 2017 NASA Astronaut class "because I love to explore, and as the human race progresses, we will likely need to expand our search for resources beyond this planet," he says.
"Being an astronaut is not the only way to be a part of that mission, but it would have been a direct and exciting role. I may yet apply again."