Joshua W. Busby
Professor, LBJ School of Public Affairs
Published March 30, 2018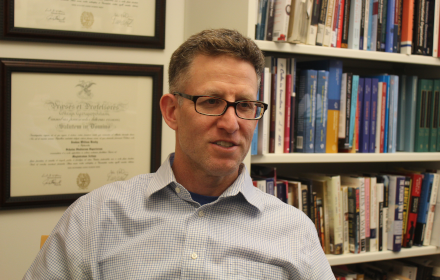 For some people, a singular event or experience can ignite a passion to serve that informs an entire lifetime. For others, like UT Prof. Josh Busby, the draw to public service arises innately from one's nature and core values.
Busby's desire to give back began early. He was an anti-apartheid activist during his high school years growing up in College Station, Texas before joining the University of North Carolina's Student Environmental Action Coalition. After two years of continued activism and studying abroad, he volunteered for the Peace Corps.
Today, as a Distinguished Scholar in the LBJ School of Public Affairs' Robert S. Strauss Center for International Security and Law, Busby conducts research on social movements, climate change governance, and global health. He also teaches courses on a variety of topics, including environmental security and energy policy, global development, and social justice.
Busby and his parents, both native Texans, frequently took hikes and spent a good deal of time exploring the natural environment. His mom and dad were a key influence in the development of what he calls his "ethos of social justice concerns" by the age of 15, he recalls.
"I wanted to be involved in causes beyond my own self-interest at a young age, and the idea of public service was always strong," he says from his third floor office in Sid Richardson Hall.
The recent March for Our Lives movement spearheaded by survivors of the Parkland, Florida shootings provides a snapshot into Busby's views of emergent social activism.
"Movements need to have a unified ask, a culturally compelling frame, and the ability to make inaction costly for opponents," he says. "I think the gun control (movement) largely has now achieved a coherent set of policy demands and has tapped into an argument that resonates with the American people."
The recent marches in support of stronger gun control policies suggest politicians who don't support the students' aims might face political fallout, Busby adds, "but that will depend on young people voting in higher proportions this fall than they normally do."
While studying political science and biology at UNC Chapel Hill, Busby championed environmental causes and immersed himself in the tactics of advocacy. He also spent a summer interning for U.S. Sen. Lloyd Bentsen.
After completing his B.A., Busby was awarded a Marshall Scholarship to attend the University of East Anglia (UEA) in Norwich, England, where he earned a second undergraduate degree in international development and helped mobilize student environmental groups across the U.K.
Following his first year of coursework at UEA, Busby participated in a summer program in Nicaragua, where he worked at an agricultural cooperative. He spent the next summer, 1995, in Uganda, building a water collection system for an orphanage.
He also hitchhiked across Uganda to Rwanda, just a year after the heinous genocide of Tutsi Rwandans.
"It was kind of dangerous, but interesting," he recalls, adding that his experiences in Central America and East Africa were instrumental in gaining a better appreciation of conditions in developing countries.
They also paved the way for Busby's next adventure – a two-and-a-half-year stint in Ecuador as a Peace Corps volunteer.
In Ecuador, Busby worked on a project to export quinoa, an herbaceous plant whose seeds offer a complete protein, particularly great for vegetarians. Much of his labors involved efforts to plan and install an irrigation system for local farmers.
While his years in Ecuador were fulfilling, and helped Busby achieve a greater understanding of advocacy, it did not come without its share of frustrations.
"There's an old quote about the Peace Corps that it's the toughest job you'll ever love, and I think that captures it about right," he says.
During his stay, Ecuador experienced several debilitating strikes, he recalls, which made for arduous journeys traveling between cities at elevations above 10,000 feet.
"I was young, and made some mistakes, but in the end it was a very rewarding experience," he says.
Busby has continued his involvement with the Peace Corps in several ways. He is the president of Friends of Ecuador, a group aimed at helping the country and its people respond to its many challenges, and has served on the board of the National Peace Corps Association, the parent organization for Friends of Ecuador.
After the Peace Corps, Busby resumed his academic studies at Georgetown University, where he earned his M.A. and Ph.D. in Government with a concentration in international relations. During his time in Washington, D.C., Busby was a pre-doctoral fellow in the Foreign Policy Studies program at the Brookings Institution before defending his dissertation, in the summer of 2004.
He seriously considered a run for Congress, but ultimately decided to pursue post-doc work at two of the nation's most prestigious institutions of higher learning – first  at the Belfer Center for Science and International Affairs at Harvard's JFK School, followed by a similar position in the research fellow at the Center for Globalization and Governance at Princeton's Woodrow Wilson School.
"I got lucky along the way," he says modestly of his graduate studies and post-doctoral work. "I had some good benefactors."
When offered a job at UT in 2006, Busby was pleased to come back home.
"Academics don't have much choice over where they end up," he notes. "But to be back in my home state, at an institution that values policy engagement and research was too good of an opportunity to pass up."
In recent years, Busby has returned to some of the energy-related issues he had explored during his graduate work at Georgetown, including an exploration of advocacy movements focused on combating global climate change.
"I've always been interested in big global causes … and why advocacy movements succeeded in some places and failed in others," he says.
Over the years, his research has morphed into an exploration of climate change and national security implications.
Busby is one of the lead researchers in the Strauss Center project on Climate Change and African Political Stability, a $7.6 million grant funded by the U.S. Department of Defense. He is also the principal investigator of Complex Emergencies and Political Stability in Asia, a 3-year, $1.9 million project, also funded by the Defense Department.
In seeking to understand the security implications of climate change, he notes that much of the quantitative literature on these issues has focused on direct correlations between climate and conflict "with only flitting attempts to specify causal mechanisms."
What is needed, he asserts, is a "focused comparison … on causal pathways and conditional effects between climate and security outcomes." Specifically, Busby is exploring the conditions under which climate factors lead to humanitarian emergencies, and what factors escalate to conflict.
"Since those events often require diversion of military assets, domestic and foreign, for relief and response operations, those events are the most likely and persistent security threats practitioners have to prepare for."
A few years ago, Busby began examining clean energy transitions in major economies of the world, focusing on key industries and sectors responsible for the vast majority of global emissions.
Much of his work since then has centered on barriers that prevent in the world's major economic players – China, India, the European Union, and the U.S. – from tackling climate change by rapidly moving away from fossil fuels.
One of the biggest obstacles standing in the way is a lack of organizational structure or authority from a governance and/or market perspective, he says, adding that "fragmentation can be the enemy of collective action."
Following the announcement that Pres. Trump intended to withdraw from the Paris accord on climate change, Busby began exploring "who could lead in the absence of the U.S. federal government."
He organized a side event at the November 2017 international climate negotiations meeting in Bonn, Germany on the importance of other entities stepping up to fill the void created by the U.S.'s departure from the global stage.
Markets alone cannot lead the transition to a cleaner environment, Busby argues.
The fossil fuel industry has benefited for more than a century of subsidies and investment in infrastructure to support coal and natural gas production, he says. More recently, renewable energy has begun to make inroads in energy markets, in part due to government actions – Renewable Portfolio Standards, tax credits, and other policies, Busby notes.
For example, the Chinese government's massive investment to subsidize the manufacture of solar panels has been instrumental in the rise of inexpensive solar energy.
"Markets don't just appear out of the ether," he says. "They're fundamentally, inextricably linked to policy choices we make."
If a clean energy revolution is about to take off, "it isn't merely a result of market actors finally maturing and getting their products cheap enough," Busby adds. "There were policies all along the way that helped hasten that."
Such transformative change needs to happen quickly to stave off dangerous effects of global climate change, he notes, "and policy is going to be critically important for that."
"Markets respond to those policy signals."
As a nonresident fellow with the Chicago Council on Global Affairs and a Senior Research Fellow at the Center for Climate & Security, Busby is seeking to make a difference in policy circles. Busby also has written on U.S.-China relations on climate change for CNAS, Resources for the Future, and the Paulson Institute. He is also a Life Member in the Council on Foreign Relations (CFR) and has written several pieces on climate change and energy for CFR.
On the academic side, his works have appeared in Political Geography, International Security, Perspectives on Politics, Security Studies, International Studies Quarterly, Current History, and Problems of Post-Communism, among other publications.
Go here for a list of journal articles and other research papers.
In addition to teaching and writing scholarly papers, Busby has authored two books. His first effort, Moral Movements and Foreign Policy, published by Cambridge University Press in 2010, seeks to explain why some countries are willing to take on new international commitments backed by principled advocacy groups and others are not. The book explores the politics of climate change, developing country debt relief, HIV/AIDS, and the International Criminal Court in the advanced industrialized world.
His second book, AIDS Drugs for All: Social Movements and Market Transformations, with Ethan Kapstein, was published in the fall of 2013. The book seeks to explain the conditions under which social movements can transform markets to achieve to their ends.
When not working, Busby is an avid runner and nature lover. About 10 years ago, he branched out from running marathons to compete in triathlons, of which he has completed at least 50, he says, including two Ironman competitions.
He also continues his family's tradition of hiking, including excursions through several national parks, including Mt. Rainier, Guadalupe Mountains, Glacier, Arches, Volcanoes, and his family's favorite Big Bend.