Jay Banner
Executive Director, Environmental Science Institute
Published May 25, 2016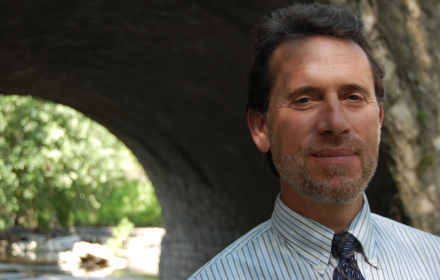 The quick laugh and gleam in Jay Banner's eye reveals an unbridled passion for science that stirs from deep within.
"I've always been fascinated with how the world around me worked," he says from his office in the Jackson Geological Sciences Building cluttered with rock samples and stalagmite specimens.
"I'd be the kid who threw a rock in a puddle and wondered why the ripples did what they did," he adds. "I just liked being outside and figuring things out."
Today, as the director of UT Austin's Environmental Science Institute (ESI), Banner has established a multidisciplinary culture of learning that seeks to infect his students with some of that same enthusiasm.  Central to that learning is a semester-long field course that harkens back to a transformative, watershed moment he experienced some 40 years ago.
A long and winding road
Banner's curiosity and aptitude for math and science first drew him to chemistry, though he was never quite sure if all those interactions between atoms and molecules were right for him.
During his sophomore year at the University of Pennsylvania, Banner had enrolled in "a hard-core course" in physical chemistry. After purchasing the required textbook for $70 – a goodly sum in the mid-1970s – he flipped through page after page of unfathomable equations and expressions.
Then and there, he decided he'd had enough of chemical systems and processes, and decided to change his major to geology. He returned the book that same day.
Still, it wasn't until a year or so later, during an intensive six-week summer field course required of all geology majors, that Banner knew he was on the right path.
Since Penn didn't offer the requisite field course, Banner had to find some other university where he could fulfil his requirement. A brochure from Sul Ross State University in Alpine, Texas, caught his eye.
As a child and young adult, Banner had been up and down the East Coast, but had never seen anything like the Trans-Pecos region of far West Texas. His perception of the Lone Star State had been formed largely from watching the iconic film, "Easy Rider," in which hippies on motorcycles are hassled by short-haired, conservative cops as they cross Texas on their way to New Orleans.
Figuring he might blend in better with the natives if he looked the part, Banner cut his hair and beard before embarking on his western adventure during that summer of 1977.
"I didn't know what to expect," he recalls.
After two flights and a long bus ride from Midland, Banner finally made it to the Sul Ross campus for the first day of instruction. It was a moment he would never forget.
"Everyone had long hair and long beards – I thought I was in a ZZ Top fan convention," he reminiscences with a laugh. "They were a great bunch of people, and it was a great summer.
"It was a transformative experience, culturally as well as scientifically. I kind of had an epiphany," Banner adds. "I realized that geology was what I was meant to do. And I never really looked back."
On one day-trip, the sky opened and erupted into a freak hailstorm – yet another eye-opening episode for a kid who had grown up on the streets of Queens, N.Y.
"I can still remember these giant green cacti poking out of a white blanket of hail," he muses.
After completing his undergraduate degree, Banner was accepted into the Earth Sciences program at SUNY Stony Brook. His advisors told him he would have to take a course in physical chemistry – a "deficiency" in his undergraduate studies – that would not count toward his graduate work.
He dutifully purchased another copy of the same textbook he had bought years before, only to return unused.
"Now it was like $77," he laughs, pulling the book down from a shelf, its well-worn spine wrapped with tape. "It was my favorite course that semester; I really enjoyed it."
At Stony Brook, where he eventually earned his M.S. and Ph.D., Banner applied the principles of chemistry to his understanding of geology. For his Master's thesis, he investigated how volcanoes form in subduction zones; his Ph.D. examined the application of isotopes as a natural tracer, work he continues today.
"All these things started fascinating me, particularly things that happen near the surface of the earth, as opposed to in the depth of the earth," he notes.
The chemistry of ancient waters
Over time, Banner narrowed his research to ancient limestone formations in the oceans that had been profoundly altered much later by groundwater moving through their pores.
While on a trip to Barbados as a Postdoctoral Fellow at the California Institute of Technology and Louisiana State University, Banner was sampling water in a cave when he nearly stumbled onto that elusive sweet spot between geology and chemistry that would form the basis of a career's research.
"I was squatting down to sample drip water in this cave, and I had to be really careful because there was this stalagmite behind it," he recollects.
"I turned around and looked at it, and I realized – that's it! That's how we can get a longer-term record of the chemistry of the waters – because the stalagmites are drop-by-drop records" of ancient water systems.
Passing the torch
Banner came to UT in 1990, where he eventually founded the ESI. He was drawn to the university, he says, because of the stellar reputation of its faculty, and its commitment to maintaining state-of-the-art facilities.
"I was very excited about coming here," Banner says, noting the university's "strong foundation in field geology studies and strong basis in analytical facilities."
Prior to 2000, no one research center at UT brought together faculty from varied disciplines to examine the environment and sustainability in a truly interdisciplinary manner. Still, there was a growing recognition that in order to address environmental problems it was necessary to build teams of disciplinary experts from biology, geology, geography, climatology, and chemistry, as well as from the social sciences.
"Once you figure out how all that works naturally, you need someone to help determine how the influence of humans has changed that ecosystem," Banner says, "so that you can craft policy and be good stewards of that environment."
In 2010, ESI created a Bachelor of Science Degree in Environmental Science to help train the next generation of scientists working on environmental issues. Students enrolled in the program are required to take a semester-long field course with 13 weeks of field trips – typically in the spring semester of their freshman year – that allows them to engage in hands-on data collection and analysis. Each field exercise features a theme that ties together course work and field visits, such as a comparative analysis of differences between urban and non-urban watersheds.
During the semester-long course, students visit a variety of local and regional habitats: studying how aquifers work "from the inside out" in area caves; examining aquatic life in the Gulf of Mexico aboard a Marine Science Institute research vessel; exploring prospects for urban agriculture during a visit to an organic farm in East Austin; or touring the Mueller Development to survey new trends in sustainable building and architecture.
Whenever possible, students and faculty supervisors ride bicycles to their weekly destination.
"It lowers the carbon footprint of the course, rather than driving everyone around in Suburbans," Banner notes. "And it's another great way for the students to bond."
Once students have completed the field course, they embark on a more intense study of math, chemistry, physics, biology, geology and geography. By then, Banner says, "they have a much better idea of why they're there, and they're much more motivated."
Promoting environmental literacy
In addition to the field course, ESI leads a ten-week summer research program. This year, the Research Experience for Undergraduates, sponsored by the National Science Foundation, will offer students in integrated environmental science the opportunity to conduct research into Climate Change Impacts in Semi-Arid Regions.
Students participating in the program will be trained in laboratory and field methods applied to studies of global climate change and its impacts on the environment. Study areas include chemistry, biology, ecology, urban ecology, policy, civil engineering, and geological sciences.
Research projects for the program will center on three major themes:
Reconstructing past climatic impacts on hydrologic and soil systems
Climate impacts on ecosystems, and
Energy-water nexus and infrastructure adaptations
Under Banner's direction, ESI also promotes environmental literacy through several educational programs aimed at communicating advances in environmental science.
The Institute's Scientist in Residence program partners UT graduate students in science and engineering with K-12 teachers and students, an initiative aimed at stirring interest in younger students to pursue a career in STEM.
"We have a real shortfall, in terms of the number of people choosing math and science or engineering as a career," Banner says. "And it's at our country's competitive peril if this trend continues."
Graduate students serve as "a great model" for middle- and high-school students who may feel daunted by the challenge of studying science or engineering, he says.
"They look like them; they dress like them – yet they're doing science," Banner says of the graduate students participating in the program. "They're formulating hypotheses, collecting data, giving presentations – they're doing the work that scientists do."
Another initiative designed to spur interest among younger students by conveying the wonder and awe of science is the enormously popular public lecture series, Hot Science – Cool Talks.
The program, which recently concluded its 100th installment, offers students and the public at-large an opportunity to hear scientists discuss their work in an informal and entertaining format that is easily understood by a lay audience. Before each lecture, ESI also hosts an community science fair, where visitors are able to view displays and interact with a variety of scientific demonstrations and experiments related to that evening's lecture.
The Friday evening events, which often draw 600 people or more, are free of charge. The lectures are also webcast live and archived on the ESI website.
"We like to think we're inspiring a lot of young learners – and even some old learners – to change people's perception of science, to make it more accessible," Banner says. "We're trying to communicate to as broad an audience as possible."