Gürcan Gülen
Research Scientist & Senior Energy Economist Center for Energy Economics | Bureau of Economic Geology | Jackson School of Geosciences
Published March 30, 2017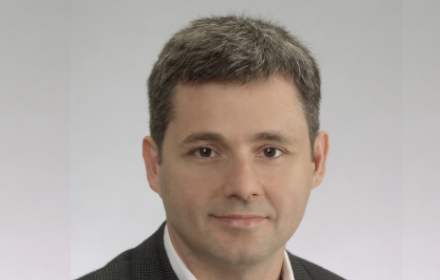 As a student who excelled at math and science – while also learning French and English – at a high school established by French Jesuits in the late 19th century in Istanbul, Gürcan Gülen was required to rank his preferred colleges and fields of study while preparing for university entrance exams. His list included eight university programs – six in engineering and two in economics.
Nearly 30 years later, Gülen (pronounced Gur-JAHN Goo-LAHN), a senior energy economist and research scientist at UT Austin, reminiscences that if he had scored just a few points lower on that test he may well have ended up studying petroleum or aerospace engineering at Istanbul Technical University.
Instead, Gülen enrolled in the Economics program at Bosphorus University, a school with roots dating back to the mid-19th century Robert College, established by Americans.
"In a sense, by luck I ended up being an economist," he laughs.
That early turn of events has turned out rather well for Gülen, who has always been fascinated with the design and construction of large infrastructure projects and facilities – and the economic systems that enable them, of course.
"How things work; how things were put together, was always my interest," he says, sounding every bit the engineer.
"Even to this day, I'm fascinated by – especially in the oil and gas industry and the electric power industry – all these amazing facilities that people build," he says. "Offshore platforms, refineries, petrochemical facilities, nuclear power plants; these are engineering wonders."
After four years at Bosphorus, one of Turkey's most prestigious universities, Gülen was accepted into the Economics program at Boston College, another Jesuit institution, where he earned his Ph.D.
Again, by apparent happenstance, the academic advisor assigned to Gülen was conducting research on oil producer behavior. Gülen began running economic modeling exercises and ultimately wrote his dissertation on OPEC behavior, the global oil market, and the efficiency of oil futures trading.
In 1996, Gülen moved to Houston, where he landed a job with Dr. Michelle Foss, who at the time was leading an energy economics research center housed within the Bauer College of Business at the University of Houston.
Working with Foss at the center was "a great opportunity to learn how the sector worked; how different segments were connected to each other," he says.
"It was very practical; energy is key to modern economies and our daily life," he says. "And yet most people take it for granted."
For the next 10 years, Gülen performed research on the commerciality of energy investments in a wide variety of areas, focusing on the supply chains for oil and gas, and electric power.
"Constantly zooming in and out of particular sectors to the big picture is intellectually stimulating," Gülen says. "They are all related … yet each segment has its own commercial challenges."
In mid-2005, the center joined UT's Bureau of Economic Geology, within the Jackson School of Geosciences, rebranding itself as the Center for Energy Economics (CEE). The change presented a unique opportunity to combine geologic expertise with commercial considerations, Gülen notes.
At the CEE, Gülen conducts in-depth analyses of electricity markets, renewables energy policies, and energy and environmental policy analysis via dispatch modeling. He also is integrally involved in the Bureau's assessments of shale gas and oil resources, and the Center's assessment of natural gas demand in the nation's electric power, industrial and transportation sectors.
Gülen's work at the CEE focuses on 'value chain economics' in the energy sector. For example, he and other researchers examine the upstream exploration and production of oil and gas resources; they then "follow those molecules" to the midstream processing, transporting and refining, and continue to track them all the way to their downstream end use.
"Each of those supply chain elements have their challenges," Gülen notes. "Some of these challenges are technical, geologic, or logistical … and many of the challenges are political, policy and regulatory, and as a result, commercial challenges."
"It's a very rich space in terms of all of the challenges that one might study."
Since the late 1990s, Gülen and his colleagues have conducted value chain economics research across the globe, from North America to West and South Africa to Central and South Asia. Researchers worked with the World Bank, the United States Agency for International Development, local ministries, regulators, universities, NGOs, and private companies to provide technical assistance and capacity building necessary to spur development.
For more on CEE's research, check out Think Corner, a public forum for experts to share their insights and experiences on research on global energy issues and market and policy developments.
Gülen also participates in interdisciplinary research initiatives involving the campus as a whole. Recently, he coordinated four different dispatch-modeling exercises for wholesale electricity markets as part of a comprehensive study, The Full Cost of Electricity (FCe), managed by UT's Energy Institute.
In addition to the economic modeling analyses, Gülen had a hand in drafting several other white papers included in the study, on topics such as federal and state financial support for electricity technologies, the history of electricity industry and restructuring, and a fresh take on how electricity generation costs are calculated.
When asked to comment on the shift in energy priorities under President Trump, Gülen demurs, in part, he says, because he is not certain what the new Administration's policies are. That said, he points to recent trends and developments in the energy sector that likely will continue regardless of the new Administration's approach to energy policy.
For example, Gülen points to a decline in CO² emissions from power plants over the last decade, largely driven by inexpensive natural gas, which has replaced coal in many locations – a trend that he sees as continuing.
The cost of renewable energy has continued to decline, he adds, another trend he expects to continue, even after tax credits supporting wind and solar energy are phased out.
"In these scenarios, when you have natural gas relatively reasonably priced, and when you have a lot more renewables coming into the system, carbon emissions will continue to decline in general," Gülen notes. "That's kind of the natural trend, even without the Clean Power Plan."
In addition to his research, Gülen teaches a course in the McCombs School of Business' Executive MBA program titled "Economics & Technology of the Crude Oil, Natural Gas & LNG Value Chains."
The course – designed for energy professionals interested in furthering their education by keeping up with emerging trends and new technologies – is a good fit for Gülen, an economist by training who also plays competitive bridge and listens to progressive rock and jazz.
"There is no end to learning new things," he says.