David Spence
Professor, McCombs School of Business | School of Law
Published February 1, 2016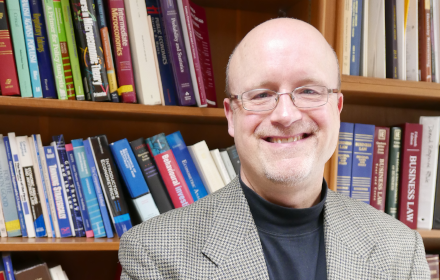 The interrelated and multi-layered nature of topical energy issues, ranging from economics and technology to geopolitics and the environment, is often cited as a prime example of the critical need to take an interdisciplinary approach to energy research.
UT Austin's David Spence, a lawyer by trade with a background in political science and economics, is the very embodiment of that thinking.
An appreciation of the intersection of different disciplines at play in the world of energy is critical, he asserts.
"You have to understand the politics, the economics, and the physical side of energy in order to provide any sort of useful insight or advice," says Spence, who since 1997 has taught courses at UT Austin in energy law, regulatory policy, and utility regulation in both the McCombs School of Business and School of Law.
In addition to his coursework, Spence is co-author of the leading energy law casebook, Energy, Economics and the Environment, and has published numerous scholarly articles on subjects relating to energy policy and the regulatory process.
Spence says typically begins his analysis of vital energy issues by examining what incentives they may present to individual consumers, while also factoring in "the collective action side to all of this, which comes into play in the policymaking process."
For example, electricity will never be a market commodity like cigarettes or cars or pork rinds, he notes, because people will always want certain attributes from the electric system that the market alone cannot provide.
"If we were to leave it to the market unfettered, we would not get the electric system we want," Spence says, adding that, while we can do a better job of taking advantage of market incentives, "we should never let ourselves be deluded into thinking that it is ever going to be a free market" that exists for many other commodities.
At a minimum, Spence notes, there is a need for some regulatory oversight of the electric system to maintain reliability and adequate reserve margins, so that power is there when consumers need it, during daily periods of peak consumption as well as on the hottest day of the year.
Among states that have restructured their electricity markets to allow competition for retail electric service, Texas has created by far the most robust market, he says, in part by forcing incumbent utilities to compete with new entrants to the market. Indeed, Texas has much more customer switching and a much more active retail marketplace than any other state that permits retail competition.
"That's one way in which Texas is unique," Spence points out. "The other way is that Texas is dedicated to this notion of letting the market work."
As a result, concerns related to maintaining an adequate reserve margin to meet electricity demand are most acute in Texas, he adds.
While Texas' market rules provide a form of regulation in some ways, "We don't intervene in the market in a way that incentivizes the building of reserve capacity the way many other states or regions do," he says.
"In other words, the only way you can make money in this market is to sell power."
Spence, who grew up in Rochester, New York, stayed close to home for his undergraduate work, receiving a degree in political science and history from Gettysburg College, a small liberal arts school in southcentral Pennsylvania.
After earning his law degree from the University of North Carolina, he returned to Rochester to practice environmental and energy law for seven years. It was there, and at his firm's office in Washington, D.C., that Spence picked up invaluable experience representing electric utilities in a variety of energy projects, many of which dealt with the Public Utility Regulatory Policies Act, which triggered the first boom in renewable forms of electricity generation in the 1980s.
Spence decided to go back to school yet again, and – "thanks to a very understanding wife" – went on to earn a MA and PhD in political science from cross-state basketball rival Duke University.
It was during this time at Duke, he says, that economics had "taken over" both political science and legal scholarship.
"There was lots of interesting discussion about the relationship between these different disciplines, and using economic models or approaches to solve political problems," he recalls.
Aside from a few stints as a visiting professor at other law schools – Vanderbilt, Harvard, and Cornell – Spence's entire academic career has been at Texas. His research initially centered on environmental issues; evolved into an in-depth study of competitive power markets; and, more recently, on oil and gas issues, with particular attention on the regulatory climate surrounding the use of hydraulic fracturing in oil and gas production.
Spence has continued to study these issues, recently co-authoring a paper with law school Prof. David Adelman that examines impacts of, and political attitudes toward, three major rules adopted by the US Environmental Protection Agency. The rules govern federal regulation of mercury, sulfur dioxide, nitrogen oxide, and other pollutants emitted from the generation of electricity, including the recently approved Clean Power Plan, which requires dramatic reductions in carbon dioxide emissions.
The majority of Spence's research focuses on regulation of the energy industry – with an overlay of academic study involving law, political science, and economics.
One of the more compelling issues in play is the 'de-carbonization' of the electric grid, which he sees as a positive development that also comes with serious caveats, given the many uncertainties concerning how large-scale integration of renewable sources will affect the electric grid and the operation of power markets.
Many industry followers believe a continued decline in the cost of solar panels suggests that energy from the sun is poised to make a significant contribution to Texas' and other states' electricity portfolios in the coming years.
Along with the integration of more wind energy into the grid – Texas already leads the nation in installed wind capacity and is adding more every year – as well as cheap natural gas, there is less incentive than ever for new market entrants to build power plants.
"All of these things are driving down the price of electricity in the spot market, which is further exacerbating the problem" of ensuring adequate reserve margins, Spence notes, adding that the proliferation of rooftop solar and other forms of distributed generation also are posing difficult questions about how to pay for the grid, as customers take less electricity from it.
"That seems to me to be a fundamental problem with electricity right now – how are you going to pay for adequate reserves and who should pay for the transition?" Spence says.
Another area of particular interest for Spence is the psychology behind societal views of energy issues, and how deeply held perceptions of energy issues frequently produce "systematic and predictable ways in which we depart from rational decision-making."
In particular, Spence is interested in whether such biases can help explain how we react to risk, "because so much about energy law and energy politics is about risk – the distribution of risks and how we're going to resolve disputes over the distribution of risks."
For example, controversial issues such as the siting power plants or the use of hydraulic fracturing mean residents residing near such undertakings "have to bear costs that the rest of us don't have to bear (while) we all get the benefits of the underlying activity," he notes.
Overcoming biases is difficult, Spence adds, but there are ways "to structure a decision process that makes the logical and demonstrable risk loom larger … and to try and guard against the kind of biases that get in the way" of sound reasoning.
In the present political climate, "there's not much room for rational, calm, decision-making., Spence says. "It all appeals to anger and fear."
Those tactics can work in the short term, Spence concludes, "but I still believe that in the long run, the demonstrable, scientific truths wins out."