David Adelman
Professor, School of Law
Published June 26, 2017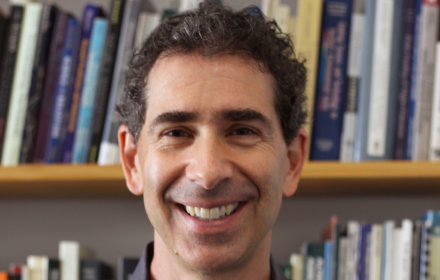 In a way, David Adelman is a classic example of the East Coast kid who goes West in search of greener pastures.
Raised in in the cosmopolitan city of Toronto, Adelman attended the prestigious Ontario Science Centre's Science School for his last semester of high school, where he studied biology, chemistry and physics.
It was natural fit for someone who had always excelled in math and science and was ready for a challenge.
"It made going to college easy, it was such an intense program," he recollects. "All the core courses on steroids."
The next fall, Adelman crossed the continent for the enlightened wilderness of Oregon, where he continued his academic studies at Reed College, a small liberal arts school in Portland.
It was in Oregon, and a few years later, in Northern California, where nature's wonders revealed in him a great reverence for the outdoors, paving the way for a lifelong fascination with environmental issues.
Today, as a professor in UT's School of Law, Adelman teaches environmental law and a graduate course in energy development and policy. The multi-disciplinary class is comprised of students from the university's business, law and engineering schools and centers around a case study that pushes them to develop viable solutions to real-world problems.
"It's really fun," Adelman says from his sixth-floor office in Jesse H. Jones Hall.
Well known for its rich Humanities curriculum, by the time Adelman arrived in the mid-1980s Reed College had also developed a strong reputation for the natural sciences. To this day, he remembers taking an exceedingly difficult organic chemistry class during his sophomore year.
"If you could make it through that class, you could get through the program," he says.
At Reed, Adelman was required to produce an undergraduate thesis; his paper, Spectral Maneuvers in the Dark, was a take-off on the pioneering British electronic band, Orchestral Manoeuvres in the Dark.
"It was typical at Reed to have some goofy name for your thesis," he says. "I was studying the spectroscopy of organic metallic compounds – using light to excite a molecule … and by doing that, examine the nature strength of the bonds" within the molecules.
After graduating from Reed with a B.A. in chemistry and physics, Adelman moved a few hundred miles south to attend Stanford University, where he earned a Ph.D. in Chemical Physics in 1993.
"We were using lasers to study the dynamics of very simple chemical reactions; basically looking for quantum-mechanical effects associated with them."
About this time, Adelman's longtime aptitude for the natural sciences gave way to a growing interest in public policy. While at Stanford, the two fields of study merged, eventually laying the groundwork for a career in environmental protection and energy research.
While he found his graduate work in atmospheric chemistry intellectually stimulating – and had even lined up a postdoctoral fellowship at the Jet Propulsion Laboratory in Los Angeles – Adelman resolved that a law degree would give him the skills he needed to pursue his desire to interpret environmental law and help shape effective energy policy.
"I just wasn't sure that I wanted to be in a lab for the rest of my life," he recalls with a laugh. "It was a huge change, though."
Adelman's experiences growing up in Canada and living on the West Coast played a big role in his decision to attend law school, as did the emergence of hot-button environmental issues, such as stratospheric ozone depletion.
"We realized that these issues were even more challenging than scientists initially had thought," he recalls.
In the summer of 1995, following his second year of law school, Adelman interned at the Natural Resource Defense Council (NRDC) in Washington, D.C.
It was during the so-called Gingrich Revolution, a tumultuous time to be living in the nation's capital and a period of turmoil for those committed to environmental protection, he notes.
"It was a shift that we're still seeing the repercussions from today."
Fresh out of Stanford, Adelman clerked for the federal District Court Samuel Conti in San Francisco, an eye-opening experience that helped refine his worldview.
In school, "you study the legal system and legal procedure, and it's all pretty abstract," he observes. "Going to work for a judge, you see how it all actually plays out; you see it in a very concrete form."
"It was great; I loved it."
Adelman then returned to the East Coast after accepting a position as an associate at Covington and Burling law firm in Washington, DC, where he worked on intellectual property and patent litigation and environmental regulatory compliance matters, including international regulation under the Kyoto Protocol on climate change.
"It was intense, but for a place to start out as a young lawyer it was fabulous," he remembers.
A year later, NRDC came calling, offering Adelman a position as staff attorney in the non-profit organization's nuclear and public health programs division. After a couple of years, he was promoted to senior attorney, where he litigated complex environmental cases, presented Congressional testimony, and lobbied on issues related to regulation of toxic substances and radioactive wastes. He also developed a program on agricultural biotechnology, and worked with industry to promote environmentally sound practices.
After four years in D.C., Adelman was offered a teaching position at the University of Arizona. His advocacy work for environmental protection had been intense – "like drinking water out of a fire hose," he recalls – but it was time to move on and reflect on the issues that he had immersed himself while at NRDC.
"I was interested in getting a broader perspective on things, and academic work would allow for that," he says.
Arizona had "an incredibly strong environmental science program, and fabulous faculty," he adds, "and Tucson is a wonderful place."
When not teaching and conducting research, Adelman reacquainted himself with the western wilderness, hiking and climbing in the nearby Catalina Mountains and in the Grand Canyon.
After seven years in Arizona, and gaining tenure, Adelman came to UT Austin in fall of 2009.
"The size and resources of UT are hard to beat," he says, adding that the university's historic law school and a faculty steeped in energy research were strong attractions.
With its abundant natural resources, legendary oil and gas production, and remarkable growth in wind energy, Texas was the ideal spot to further his energy research and continue teaching.
"Texas is the most sophisticated and challenging place to work" in energy, he says. "One of the great things about being here is the sophistication of the technical … business … developer community. They're all on the cutting edge."
"If you can solve things (here), you can deal with them anywhere."
At UT, Adelman's research focuses on the interface between law and science. He is particularly interested in "the tensions between legal and scientific evidentiary standards in regulatory decision making."
Over the years, he has written articles on such topics as the implications of emerging genomic technologies for toxics regulation, the tensions between legal and scientific evidentiary standards in regulatory decision-making, and development of effective policies for promoting innovation relevant to addressing climate change.
Go here for a complete list of Prof. Adelman's publications.
He also remains interested in nuclear energy, and regrets the contentiousness that tends to surround public debate of the issue.
"I wish we could think more rationally about the tradeoffs of nuclear power," he says.
The price of wind and solar have dropped so much, Adelman notes, that a prevailing narrative suggests there is no need for carbon capture and sequestration, or for nuclear power, because they're both so expensive. In addition, high-profile catastrophes such as the 2011 Fukushima disaster have made nuclear a non-starter for many.
If the U.S. could somehow push the cost of nuclear down – by adopting a power plant design now employed in South Korea to streamline the construction process, for example – nuclear could be cost competitive, Adelman muses.
"With very high penetration rates for renewables, you reach a point where you need some kind of baseload, or at least flexible" form of generation, which could well be nuclear, he says.
To examine these and other issues more deeply, Adelman is working with colleagues in the McCombs School of Business and Cockrell School of Engineering to build economic models that explore several scenarios under varying types of energy policies and cost estimates for various sources of electricity generation. The paper, which he hopes will be published next fall, will include analyses based on data from several regional transmission organizations, including Texas, California, the Midwest and New England.
"We're creating model grids for each of those areas in part because they have very different generation mixes and different load profiles," he says.
The benchmarking analysis examines the cost of electricity generation under policies such as a Renewable Portfolio Standard and a price on carbon.
The work already is producing some interesting results, he says. For example, it appears that a carbon tax is likely to be far more effective a policy than a Renewable Portfolio Standard in reducing carbon dioxide emissions per kilowatt-hour.
"Even with a modest carbon price, say $20 (per ton), we're seeing a build-out of 40 to 50 percent" of electricity generation from solar in Texas, he says.
"I think it will be a really cool study."
When not at work, Adelman – unsurprisingly – tends to spend his time outdoors. Each summer, he spends a few weeks in Telluride, Colorado, hiking and mountaineering.
"It's gorgeous," he says. "You can literally walk out your door and start climbing."
Spoken like an Eastern kid who came of age out West.