view of manhatten from the air, at night
Energy Institute Membership Program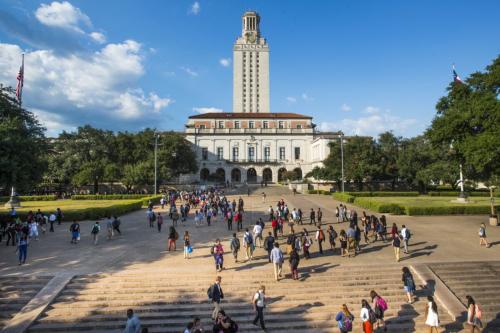 The Energy Institute at The University of Texas at Austin and four of the globe's largest energy companies have launched a new membership program that will advance science and create opportunities for energy community members and students.
"The key challenges ahead, which include moving the complex, global energy system to a lower-emission future, will require contributions from private industry, governments, and academia. Partners like UT who are committed to truly working collaboratively are essential in identifying alternative sources of energy and in the development of technologies to help address climate change. We look forward to deepening our partnership with UT and continuing the meaningful work we started with the Energy Institute that dates back to 2016."
–Nick Clausi, Vice President of Research, ExxonMobil
"Shell is delighted to be a member of the Energy Institute at the University of Texas, Austin. The UT Energy Institute has a central role to play as a unique convergence spot on campus that brings multiple disciplines, departments, thought leaders, and experts from academia and industry together to address the full spectrum of technologies, business models, and policies needed to enable the energy transition." 
–Ajay Mehta, Vice President of Engineering, Chief Engineer of R & D, Shell
"Chevron has partnered with the University of Texas for decades. We have long seen the benefits of close collaboration – certainly needed more than ever among all participants in the energy innovation ecosystem – and we look forward to further collaboration as a member of UT's Energy Institute to advance the evolution of a lower carbon energy system." 
–Jim Gable, Vice President of Innovation, President of Technology Ventures, Chevron
"As supporters of the UT Energy Institute's energy management, innovation and research initiatives since 2009, ConocoPhillips is pleased to be an inaugural partner of this new program. Over the years, the Institute has played an important role in advancing research, informing policy and convening cross-sector thought leaders to address global energy challenges. We look forward to partnering with UT and others to seek solutions to address the energy transition pathway."
–Helen Currie, Chief Economist, ConocoPhillips
"Bidra is an investment group backed by UM6P in Morocco. Our mission is to back innovation and scholarship in energy transition and sustainability. In pursuit of this mission, we are thrilled to join The Energy Institute at UT Austin. We look forward to working together, including researchers from UM6P collaborating with UT Austin on topics of common interest in energy transition."
–Amar Singh, President, Bidra Innovation Ventures
Brian Korgel, Director
Email:
Phone:
"This program allows the energy community to engage strategically with UT and help identify and then fund critical areas of research interest. As members, energy industry experts can connect more directly with students, faculty, researchers and UT leadership, provide timely insight, fill knowledge gaps and workforce needs, and support innovation through pioneering research."
–Brian Korgel, Director of the Energy Institute
Thanks to our corporate partners for their generous support of UT's Energy Institute.