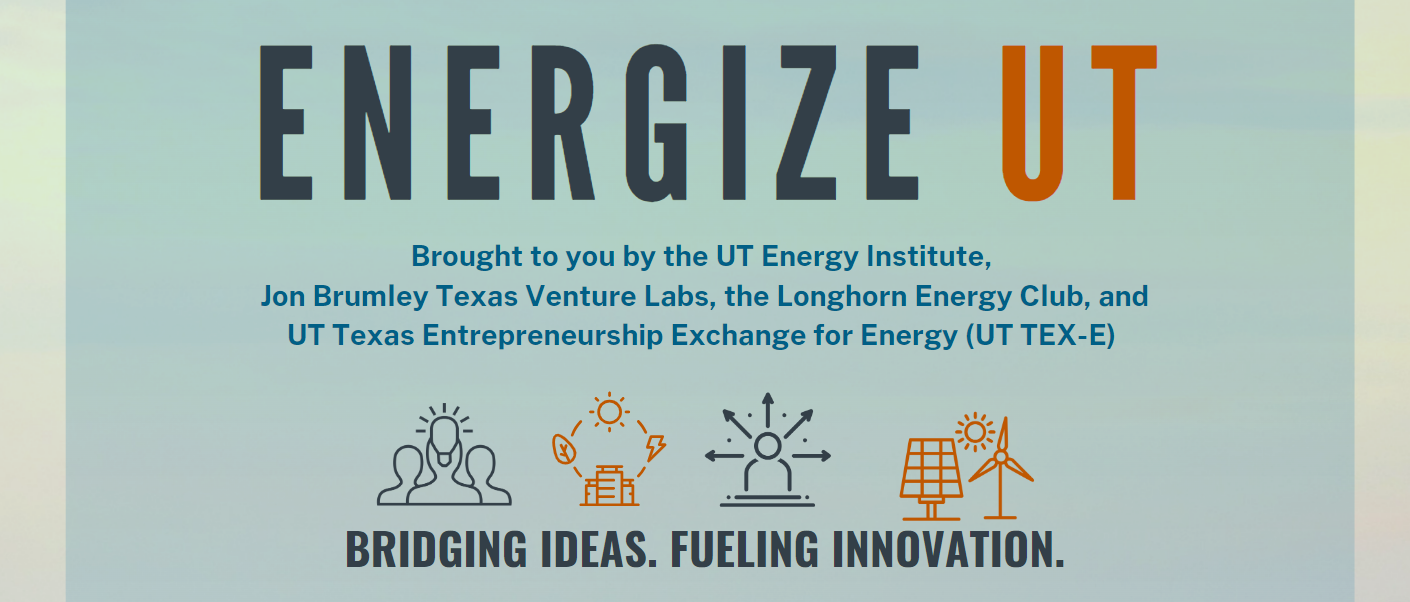 The inaugural Energize UT was hosted on Tuesday, September 26, 2023.
Technology and policy changes over the next decade will determine the course of our energy future—and here in Texas, where we have an unparalleled concentration of energy infrastructure and expertise, we're at ground zero for many of those changes.
UT students will play an enormous role in shaping our energy future through research and discovery, policy leadership, entrepreneurship, community engagement and advocacy, and public outreach and education (from journalism to PR to graphic design).
The UT Energy Institute, Jon Brumley Texas Venture Labs, Longhorn Energy Club, and UT Texas Entrepreneurship Exchange for Energy (UT TEX-E) hosted this unique event bringing together students and professionals across disciplines to co-create a vision for a vibrant, cross-disciplinary student community that will shape Texas' innovation ecosystem at this key juncture to ensure a sustainable, thriving future.
Inquire about sponsorship opportunities for Fall 2024
 
 

AGENDA

All presentations took place in the Crum Auditorium on the ground floor of Robert B. Rowling Hall, located at 300 West Martin Luther King Junior Boulevard, Austin, TX 78705.

1:30-2pm

Registration
Crum Auditorium Foyer & Rowling Hall Atrium

2pm

Welcome and Opening Remarks
Energy Institute Director Brian Korgel and Texas Venture Labs Program Manager Christy Grady

Keynote: A Vision for a Thriving Innovation Ecosystem
TEX-E Executive Director Dave Pruner

2:20-3pm

Student Panel: The UT Energy Scene

Vivek Singh (moderator): master's candidate; Energy & Earth Resources, Jackson School of Geosciences
Hari Kamalakannan: master's candidate; Energy & Earth Resources, Jackson School of Geosciences
Ben Evanson: senior; Plan II Honors program, College of Liberal Arts; Mechanical Engineering, Cockrell School of Engineering
Antoine Chamoun-Farah: PhD candidate; Chemical Engineering, Cockrell School of Engineering

3-4pm

Club Convergence
For the first time ever, UT's student clubs in energy, sustainability, and entrepreneurship came together in one place, to spark conversation and collaboration

Participants

Longhorn Energy Club
UT TEX-E
Texas Geophysical Society
Switch Energy Club Longhorn Chapter
Energy Resources Group
The Negative Emissions Technology (NET) Project
Campus Environmental Center
UTEXAS Energy
American Nuclear Society
MBA Cleantech Group
Texas Energy Capital
Social Entrepreneurship Learning Lab (SELL)
UT Green Fund
UT Climate Leaders

*Students: If you want your club to participate at our next Club Convergence event, let us know! Contact Nora Ankrum at nora@energy.utexas.edu.

4-5pm

Industry Panel: Interdisciplinary Collaboration in Innovation

Christopher Matos (moderator): Senior Market Energy Consultant at Siemens
Jeremy Pitts: Managing Director at Activate Houston; co-founder of Greentown Labs Boston
Emma Garcia: Executive Director of Workforce Innovation & Smart City Engagement at Zpryme
Hariprasad Subramani: Strategic Relationship Manager at Chevron Technology Ventures
Pliny Fisk, Co-Founder of the Center for Maximum Potential Building Systems
 

5-6pm

Networking Reception

Featuring special guests:

Aurora Energy
Center for Maximum Potential Building Systems
Energy Mentors
ExxonMobil
Jupiter Power
KSE Holdings
The LaunchPad at UT Austin
Siemens
Solar Austin
Yotta Energy

Plus: The Energy Journalism Table, hosted by award-winning public radio correspondent Andy Uhler; and a special exhibit, hosted by Pliny Fisk, co-founder of the Center for Maximum Potential Building Systems
Event Details
Date and Time
Sept. 26, 2023, 2 to 6 p.m.