Oct 01, 2018
Research Spotlight
Joshua Apte
Assistant Professor, Department of Civil, Architectural and Environmental Engineering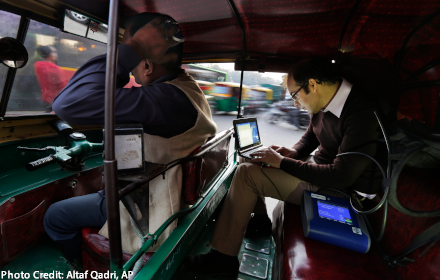 As the old expression goes, some acorns tend to fall not far from the tree.
Such is the case with Joshua Apte, an assistant professor in UT Austin's Department of Civil, Architectural and Environmental Engineering (CAEE), who followed in the steps of his father, an indoor air quality scientist.
The younger Apte took his love of environmental science outside, as it were, to focus on the intersection of air quality, climate-change mitigation, energy, and public health.
Science was a popular topic in his household while growing up, Apte recalls.
"It's what we talked about," he recalls. "I thought it was interesting; I thought it was fun."
Today, Apte is recognized for his groundbreaking work in monitoring and mapping air pollution, and measuring its effects on human health and life expectancy.
Apte attended public high school in Berkeley, CA, before traveling east for his undergraduate studies at Brown University in Rhode Island. By then, his interest in energy and clean air already had blossomed.
"It became obvious to me very quickly that energy was at the center of solving that problem," he says from his fifth-floor office on UT's main campus, "especially the efficient use of energy."
"My overarching interest is solving the most pressing sustainability challenge of the century, which is all about climate change," he adds.
At Brown, Apte delved deeply into the issue, studying the energy efficiency of U.S. commercial buildings and the potential for decarbonizing the energy used to heat and cool them.
Making room in the atmosphere for economic growth
Shortly after earning a B.S., Environmental Science in 2004, Apte had an opportunity to visit India, where he studied village-level water treatment. While there, he became fascinated with issues surrounding the future of transportation and energy in developing countries, and the implications for climate change in areas of the world seeking to extend mobility and other creature comforts to millions of residents.
"The question is, how do we meet the demand for better mobility, the demand for air conditioning, the demand for comfortable indoor climates that are more spacious, while living within the constraint of climate change," Apte posits.
If one accepts that ignoring the constraint of a warmer world is an unacceptable response, he adds, it follows that energy efficiency is a critical response "for making enough room in the atmosphere for economic growth."
"I was supposed to be there working on water," he recalls, "but I became immediately fascinated by this problem of energy and climate change."
Apte returned to the west coast in 2006 and continued his research in the Building Technology program at the Lawrence Berkeley National Laboratory.  At LBNL, his work centered on the potential for energy savings in commercial buildings, particularly in the area of energy efficient windows in commercial and residential dwellings.
At the same time, he entered a master's program in University of California, Berkeley's Energy and Resources Group, where his interest in the issues facing developing countries narrowed in focus.
"Very quickly I centered on air pollution as being the right entry point for dealing with these energy and climate problems," he notes.
Apte's master's degree research focused on local air quality as a starting point for his broader interest in finding workable solutions for the problems facing countries such as India.
"No sensible policymaker is going to prioritize the needs of the planet over the needs of his or her constituents," he observes. "That's just the way politics works, at least in our system."
Apte completed his M.S., in Energy and Resources from Berkeley in 2008 before earning his Ph.D., also in Energy and Resources, in 2013.
Prioritizing air pollution as an entry point for climate mitigation, Apte says, "is a very powerful lens for tackling the problems of infrastructure, energy and climate in the developing world."
Over time, he has refined his research interests to focus on targeting sources of air pollution "that have a high impact on health and climate at the same time."
That focus includes electricity generation, energy use in buildings and other infrastructure, and transportation, for their potential energy savings.
"An awful lot of what's going to determine whether we succeed or fail with the climate problem in this century has not yet been committed to," he says. "So we have a real possibility of bending the arc of what the future looks like, but only if we make the right decisions now."
After about 18 months' work as a postdoctoral fellow at LBNL, Apte accepted a position in UT Austin's Cockrell School of Engineering in early 2015. He also has courtesy/ affiliate appointments in the university's Population Health and the South Asia Institute.
"This is a great program," he says of his work in CAEE's Building, Energy and Environments Group.
"It's a great place to be an assistant professor," he adds. "And Austin's a really cool town."
Apte teaches a class in energy efficient and healthy buildings, and another on climate change mitigation.
"You might think a class like that would be all gloom and doom," he says, "but it's actually a very hopeful class, because so many of the tools we need to solve the problem already exist; it's really a question about how we appropriately coordinate them and deploy them at scale."
The majority of environmental problems the U.S. has tried to solve over the past 40 – 50 years, Apte says, have been "easier to solve, more technically achievable, and more cost-effective than we thought up front, because we innovated."
When asked if the current Administration's efforts to roll back environmental regulations will have a lasting effect on efforts to curb climate change, he says that, "any delay in pursuing aggressive climate polices is going to dramatically reduce our chances of successfully solving the most pressing environmental problem that we're facing today."
"It's a serious mistake to take our foot off the gas."
Pioneering research
Apte's research group uses field measurements and models to understand the relationships between urban air pollutant emissions, population exposure, and human health.
One of the problems his team is focused on is air pollution in some of the world's biggest cities. To that end, researchers are involved in the Global Burden of Disease, whose goal is "to understand what makes humans sick and die around the planet."
Apte's participation in the project focuses on gaining a better understanding of environmental risks and specifically the global health impacts associated with air pollution. Researchers recently published a paper concluding the average human life is shortened by about one year due to air pollution.
"In many countries, if we solved the air pollution problem, we would do more to increase life spans than if we completely cured some of the more common types of cancer," he notes.
For more on this research, read articles in the New York Times and the Houston Chronicle.
Apte's research group is also deeply involved in a project with several other universities to track the use of satellites to monitor and measure air pollution in cities throughout the globe.
In India, whose severe air pollution problems are widely known, researchers have set up a measuring and monitoring facility at the Indian Institute of Technology. The work, which features source apportionment through chemical characterization, aims to more accurately determine what is polluting Delhi's air.
As is the case in many densely populated areas of the world, Delhi's air pollution problems are related to climate change, and vice versa, Apte notes. Solving those problems will require a portfolio of solutions, he adds.
"There's no single bullet to solve the problem; just like here in the U.S., we're not going to solve the climate problem by all of us driving Priuses."
Significant strides forward can be made in reducing local air pollution by implementing aggressive emission controls policies, however.
"It's a problem that's can be solved with off-the-shelf technology, but you have to courage to implement it."
Another of Apte's projects that has received attention lately is an ongoing effort to measure air pollution on a hyper-local basis.
"Our vision is to understand how air pollution varies, block-by-block over the entire plant," he says.
The work employs new sensing technologies in tandem with commercially available, low-cost pollution sensors, used at scale. Researchers also have "gone mobile" to track how air pollution varies within neighborhoods in the same city or community.
"When you make measurements in a moving platform; when you have a well-designed protocol for repeatedly going to neighborhoods in a certain city; you can start to elucidate pollution patterns at a much finer scale," Apte notes.
Researchers are working with Google Street View cars specially equipped with air pollution monitors to collect data in several U.S. cities, beginning in Oakland, California.
The team has found that pollution levels can vary a great deal within neighborhoods, or even a single city block. Their work, now in its third year, has produced the most detailed and extensive database of local air pollution ever assembled.
The technology has allowed researchers to develop maps for long-term air quality with thousands times more resolution than conventional monitoring techniques. Go here to learn more about this cutting-edge research.
When not tooling around in a Google Street View car to identify air pollution hot spots, chronicling pollution sources in India, or analyzing data collected by more conventional means, Apte enjoys cycling and hiking in California's mountain ranges.
That said, he is one of those people who really, truly loves his work.
"This is my fun and entertainment; this is what I do," he says with a laugh. "I live and breathe air pollution."
Gary Rasp is the communications director for UT Austin's Energy Institute.