Dec 19, 2018
Research Spotlight
F. Todd Davidson
Research Associate, Energy Institute & Webber Energy Group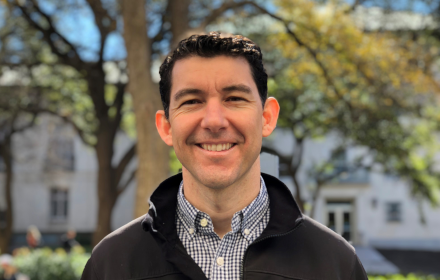 For as long as he can remember, Todd Davidson has been interested in solving problems. As an engineer, he has an informed sense of what works and why, a perspective shaped by real-world pragmatism.
Moreover, Davidson is driven by the strong conviction that "the two machines of human ingenuity" – the scientific process and capitalism – provide humanity's best hope for delivering the transformative innovations needed to solve its most vexing problems.
Today, as a research associate in UT Austin's Energy Institute and Webber Energy Group Davidson analyzes the technical and financial merit of energy systems, including technologies relevant to energy storage, renewable resources, oil and gas, and transportation.
A passion for nature
Davidson grew up in southern Arizona, where he played soccer – a lot of soccer, for Catalina Foothills High School in north Tucson, as well as for select club teams that traveled across the country and even to Europe.
 "We won a lot," he says modestly, noting that his high school team competed at the national level before being "steamrolled by California."
He also displayed an early acumen for math, easily navigating his way through high school AP courses. He also liked to build things; for a senior design class he and a friend constructed a large wind tunnel and donated it to the school's physics laboratory.
Davidson's father, an attorney by training who worked in finance, always advised his son to "play hard, play smart, and have fun," a maxim he found uplifting, and still does to this day.
As a youth, he roamed the area's small mountain ranges, including the Santa Catalinas and Rincons, and recalls camping trips with his mother on the Colorado Plateau of northern Arizona and other wilderness outings in southern Utah and Colorado.
Davidson's passion for the natural world was more than a passing phase. While attending Trinity University in San Antonio for his undergraduate studies, he continued to spend a lot of time outdoors, working as an outdoor guide during the school year.
At Trinity, his mentor Engineering Prof. Peter Kelly-Zion had a big influence on his decision to pursue mechanical engineering.
"Under (Zion's) tutelage, we built a functioning, small-scale jet engine," Davidson recalls. "That was really fun, and helped kick off my desire to examine jet propulsion issues."
After graduating from Trinity with a BS in Engineering Science in 2005, Davidson spent the better part of two months in the wilds of Alaska with the National Outdoors Leadership School, camping, traversing glaciers and mountaineering.
The leadership program was a memorable and character-building experience, he says.
"That summer was something I still look back on fondly. I still think about it a lot."
Davidson then accepted a full-time position with defense contractor Raytheon, where he had worked during the summer months, designing missile defense systems. His work took him back to Alaska, where he installed hardware to defend the United States from ballistic missiles.
A move to UT Austin
Davidson came to UT Austin in 2006, initially working with Engineering Prof. David Bogard on natural gas turbines, power generation and jet propulsion.
He soon became enthralled with the challenge of providing access to energy to a growing global population "while simultaneously balancing our economic and environmental goals."
During this time, Davidson also immersed himself in entrepreneurial work with the McCombs School of Business. While finishing his PhD in mechanical engineering, he "took a left turn" and delved into materials science research and energy storage, which led to him co-founding a start-up company, nCarbon, where he served as CEO.
"I became fascinated by the topic, because of its potential," he recalls of his work with graphene at nCarbon.
The company licensed intellectual property and began the process of establishing labs to manufacture graphene-based batteries. Eventually, the effort failed to produce an economic solution and the company dissolved.
Through his work with Bogard, Davidson had met Engineering Prof. Michael Webber. In 2014, Webber extended an offer for Davidson to return to UT Austin as a senior member of the Webber Energy Group. Since then, he has worked in the Department of Mechanical Engineering and the Energy Institute, applying his understanding of engineering, economics and commercialization to address pressing energy issues.
In addition to his research, Davidson has taught fluid mechanics in UT's Department of Mechanical Engineering and given lectures on entrepreneurship.
Over the years, as he refined his interests and collaborated with other researchers, Davidson has narrowed his focus to a handful of topics he sees as truly vital.
"I'm not in the lab anymore, but I'm trying to figure out how to take lessons learned in the lab and apply them to the world's problems."
Transformative Transportation
A particular research area of focus for Davidson is transportation and the role it can play in reducing harmful emissions. He and other UT Austin engineers have published on the potential impacts of hydrogen- and electric battery-powered vehicles, the advent of autonomous cars, and a growing market for what Davidson refers to as "mobility services" – car-hailing, ride-sharing and other alternatives to conventional car ownership.
"Now is probably the most exciting time in the transportation industry since Henry Ford brought the Model T on line," he says.
The intersection of electrification, shared mobility and autonomy – along with enabling technologies such as smart phones, advanced batteries and improvements in computing power – form the nexus to what Davidson sees as a transformation in the U.S. transportation industry.
If we move to a world where vehicles are shared, autonomous, and electrified, energy demands could be very different than what they are today, he observes.
Working with fellow researchers Josh Rhodes, Dave Tuttle and Kazunori Nagasawa, Davidson recently published an op-ed in The Conversation that examines the implications of how a significant uptick in electric vehicles (EVs) and a move away from internal combustion vehicles might affect electricity demand and consumption.
The article draws upon analysis researchers at the Energy Institute have undertaken as part of a multi-disciplinary study, the Energy Infrastructure of the Future. The team intends to publish a more detailed white paper of their analysis in the coming year. 
Thus far, the team has determined that the impact of EVs on electricity demand and consumption will depend on where the vehicles are driven and when they are charged. They also have concluded that electric vehicles have the potential to save consumers billions of dollars in fuel costs.
Location, location
Since Texas and California consume more electricity than any other states, the two states provide a useful snapshot for understanding what a future filled with electric vehicles might look like. In both cases, an increase in EVs would drive electricity consumption higher, but, if implemented properly, the team's analysis suggests the grid will be able to handle the future growth in demand.
Based on their estimates, the charging requirements for a fully electrified fleet of personal cars in Texas would increase electricity consumption by approximately 30 percent, roughly 110 terawatt-hours per year – less than the available surplus of generation capacity. In other words, the Texas grid could theoretically charge a fully electrified fleet without adding a single new power plant.
The same analysis for California, however, found that if EVs become the norm, the total demand for electricity could push the Golden State beyond its existing capacity. That said, the nation's electric grid has a long history of accommodating new demands for power, Davidson notes, and should be able to adjust to the future demand.
Perhaps even more important than how much electricity electric vehicles will consume is when EV owners will recharge them.
If most EVs were to be charged in the afternoon, during peak demand, the grid would need more generation capacity to avoid outages. Fortunately, most existing EV owners charge their vehicles during the night when demand is low. As the number of EV and plug-in hybrid vehicles grows, it will be important to continue educating the public about the intersection of transportation energy requirements and the dynamics of the grid, including electricity prices, Davidson notes.
Incentives could reduce what it will cost to equip the grid for the mass adoption of EVs, he adds. For example, utilities could charge varying rates for electricity during different times of day and on different days of the week, known as time-of-use prices.
Mobility Services
The growing popularity of Uber, Lyft, and other ridesharing companies spurred Davidson to conduct research on whether it makes sense to own a vehicle or use ridesharing services.
Davidson and Webber created an online, interactive tool, RideOrDrive.org, which allows consumers to input data about their vehicles, driving habits, and how they value their time. It weighs the pros and cons of mobility services versus personal car ownership based on individual data, such as the cost to purchase and maintain your own car.
Somewhat surprisingly, they found that how consumers value their time is one of the most important variables when evaluating transportation options.
"It's all about trade-offs," Davidson says, adding that he is hopeful society "can realize the potential long-term benefits of shared transportation systems, particularly in dense urban settings."
For more on this research, read their article in The Conversation.
Tackling climate change
Another high-profile topic that is of particular interest to Davidson is the vexing problem of climate change. He recently published an op-ed in The Hill in which he argued that, despite grim warnings from the scientific community about the debilitating effects of a warming planet, the vast majority of the solutions we need to address climate change already exist.
"It would be in our best interests if everyone would stop acting as if we don't have the solutions," he says. "We can solve this problem."
What is lacking, Davidson asserts, is the political will to put a price on emissions. Without pricing emissions, corporations and entrepreneurs will have a hard time deploying solutions that are technically viable, including nuclear, energy storage and synthetic fuels that can help displace carbon-intensive energy sources.
"All of these solutions, and more, including relatively simple changes to city design and consumer behavior, face almost no technological hurdles," he says, noting that with proper policy and market signals, "we can inspire people to live a life of lower carbon intensity."
He also sees capture carbon as a technology ripe for deployment.
"There's no reason to think we can't sequester carbon in one form or another."
While Davidson recognizes the barriers to enacting such solutions, he sees promise in the role capitalism can play in addressing financial challenges.
"Ultimately, climate change is not a technological challenge; it's an economic one," he concludes.
In another op-ed on this topic, published in Fortune magazine, Davidson argues that the U.S. has a constitutional mandate to provide for the common defense by addressing the rising threat of climate change.
In this piece, he points to concerns expressed by U.S. military leaders about the damaging effects of climate change, asserting that the harm it poses is more significant than the threat of terrorism. Davidson argues that politicians should align their thinking with military leaders and recognize climate change as a security issue. Within that context, he writes, spending the money to upgrade the nation's electric grid, for instance, would look like a tremendous bargain compared to what the nation spends on other security issues.
Hope for the future
"I want us to be optimistic about solving our challenges when it comes to energy, and I want us to do the best we can with the two engines that we have – capitalism and scientific development," Davidson says.
"But I also want us to recognize that we have a commitment to one another within society, and sometimes we spend money on things not because it's a financial issue, but because it's a moral or ethical obligation."
When not poring over analytical reports and conducting research, Davidson, unsurprisingly, "goes outside."
"Specifically, I go fishing and hiking in the Hill Country," he says, adding that family vacations are spent hiking, skiing, backpacking, rafting, and mountain biking.
"And when I can, I go to the mountains."
Read Energy Institute news stories related to Todd Davidson and his work.
Gary Rasp is the communications director for UT Austin's Energy Institute.